I wanted to challenge myself to highlight a recipe that isn't "smothered n' covered" in bacon and cheese. So if you're lactose intolerant and need a break from casseroles, this one's for you!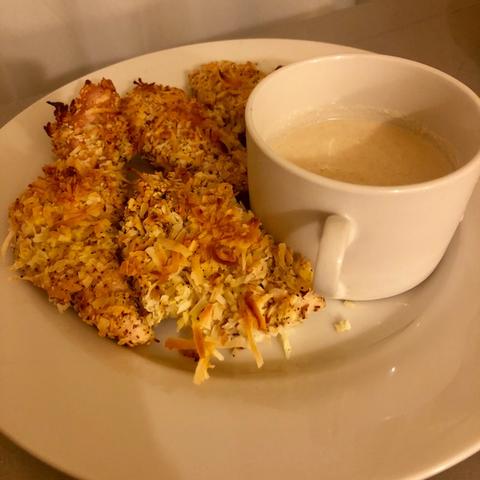 It's a good grain / sugar / dairy free snack for game day or anything other get together!
Chicken Tenders recipe courtesy of Paleo Leap. Give it a try!
Directions
You will need three bowls; one for the coconut or almond flour, one for the coconut milk and egg mixture (just beat the eggs and milk together) and one for the shredded coconut.
Coat each chicken strip in the coconut or almond flour, then dunk in the egg and coconut milk mixture and finally coat with shredded coconut.
After you've done that, sprinkle a little salt and pepper over the chicken and place the chicken strips on an olive oil or coconut oil-coated baking sheet, cast iron skillet, or casserole dish.
Cook it on up until chicken is cooked through and coconut flakes are golden!
(I flipped them when they were almost done so both sides could get crispy, but don't bother if you're feeling lazy.)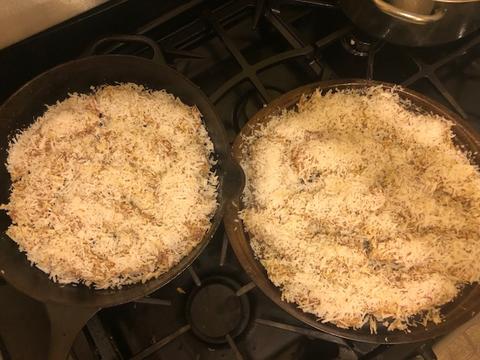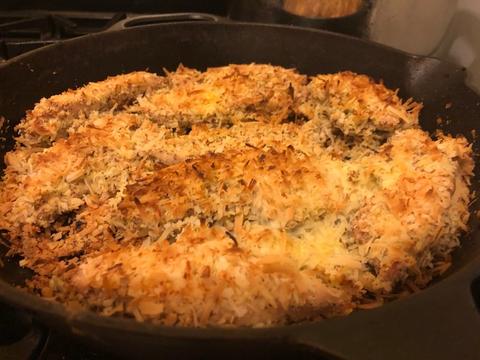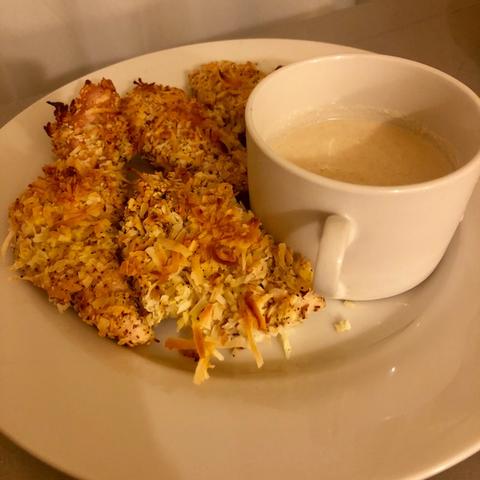 Notes
The flavor of the chicken tenders is very mild and I'm used to cooking with lots and lots of spices and seasonings to add a more vibrant flavor. So I found a Thai-inspired coconut cream dipping sauce recipe at the link below that works great to give it a flavor boost!
Dip Recipe
Pups with Chopsticks has a great recipe that I worked off of but I've made a few modifications.
Ingredients
1/2 cup coconut cream
1/2 teaspoon fish sauce (or soy sauce)
1/2 lime (juiced)
1 clove garlic (finely minced)
Directions
Simply throw a half cup of coconut cream, shredded coconut, fish or soy sauce, lime and garlic into the blender and pulse until mixed.
You can taste and see if it needs to be kicked up a notch in any way for you. It should be rich and savory and a little tangy.
Enjoy!!