Instant Pot Pork Tenderloin with Warm Slaw
I love eating pork tenderloin, but I don't always enjoy cooking it. There is such a fine line between perfectly cooked and wayyyy too dry and honestly sometimes it just feels like more trouble than it's worth. However, I've found that cooking the pork in an Instant Pot pretty much eliminates the possibility of it drying out. So IP it is!
Meanwhile, I made up this insanely delectable cheesy cooked slaw to go with it. It has holiday dinner, hearty family meal and weekly meal prep dish written all over it!
Ingredients
Pork
1 Pork Tenderloin (1 1/2 pounds)
1/2 teaspoon garlic salt
1/4 teaspoon coarse ground black pepper
1/4 teaspoon paprika (smoked preferably)
1/2 tablespoon minced garlic
1 1/2 teaspoon whole grain mustard
Slaw
6 oz diced onion
1 chopped orange bell pepper
1 1/2 bags Trader Joe's Cruciferous Crunch Slaw
1/2 cup sauerkraut
1 teaspoon whole grain or dijon mustard
1 1/2 teaspoon minced garlic
1/2 teaspoon garlic salt
1/2 teaspoon umami seasoning (optional)
1/8 teaspoon black pepper
1 cup shredded Swiss cheese
1 cup shredded gruyere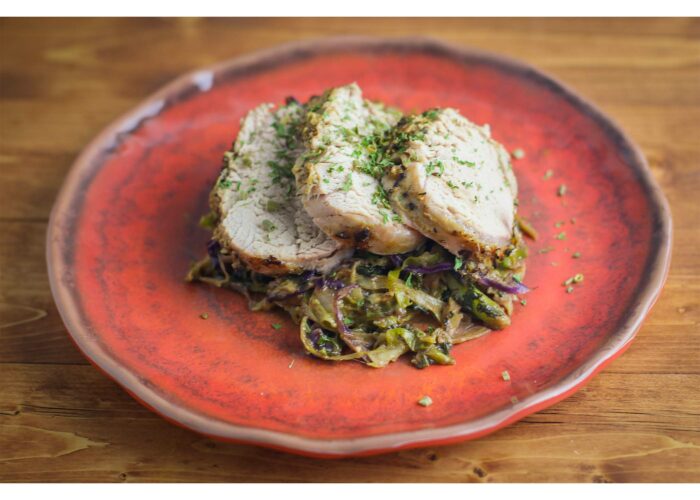 Directions
Pierce pork about every 3 inches on top and bottom so the coating can seep in.
Mix all dry seasonings together and generously rub on pork.
Coat pork in mustard and garlic.
In either a heavy-bottom pan or using the sauté setting on the Instant Pot, Seer pork on high heat on all four sides, using tongs (2-3 minutes per side).
Cut in half.
Place in the Instant Pot basket.
Pour 1/2 cup water below pork.
Set Instant Pot on high pressure for 4 min.
While the Instant Pot is cooking the pork, make the slaw…
Sauté 6 oz diced onions.
Add 1 chopped bell pepper.
Toss in cruciferous crunch slaw by the handful, stirring and wilting.
Once wilted add 1/2 cup sauerkraut.
Add garlic, umami, garlic salt, pepper.
Coat well.
Once coated, stir shredded cheese into the mixture 1 cup at a time.
Mix well until everything is melty and gooey.
Turn off heat and cover.
Once pork is done in the Instant Pot (it's a pretty fast cook), use long spoon to turn steam release knob, open lid and take out pork with tongs.
Slice pork in about 3/4 inch slices and lay 3 pieces over small mound of slaw mixture.
Serve and enjoy!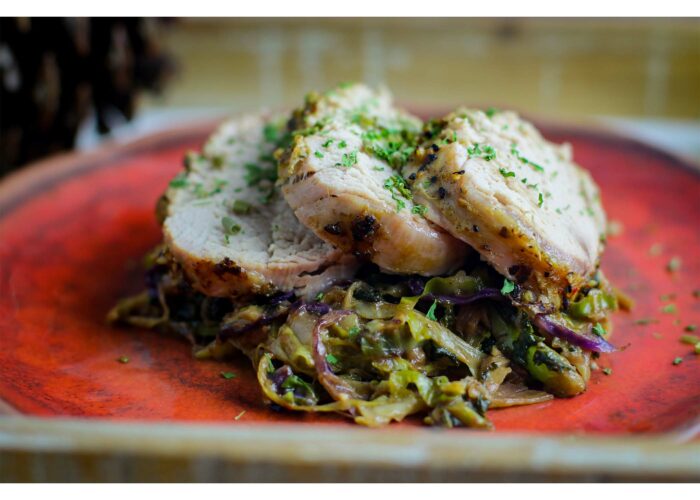 Notes
The reason I prefer to cook pork tenderloin in the IP is because, in my opinion, it keeps it from drying out more than other methods of cooking.
If you are new to the Instant Pot, it is a wondrous creation (I'm not getting paid to say that by the way!) But you're going to want to familiarize yourself with it as much as possible. (I have the luxury of FaceTiming my mom every time I have a question, but she can only field so many calls haha!)
Here is the official Instant Pot manual in case you don't have yours.
If you don't have a Trader Joe's in your area, you can make your own Cruciferous Crunch Collection by combining, chopped kale, shaved Brussel sprouts, finely chopped broccoli and cabbage.
This slaw recipe would be great topped with chicken breast, chicken thighs, pot roast or even corned beef for St. Patrick's day!