Bonus Tarragon Chicken Salad with Toasted Pecans
Chicken salad is a staple of any summer get together and there are so many ways to put your own spin on it! Shredded chicken vs. cubed chicken, fruit vs. no fruit, tarragon vs. dill…This list goes on and on!
So here's the way I like to do it, with a few twists and turns (see: sautéd onions instead of raw and a dollop of sour cream to mellow it out!)
Warning up front – this recipe is a crowd pleaser and #NSNG AND makes enough for the whole party or weekly meal prep!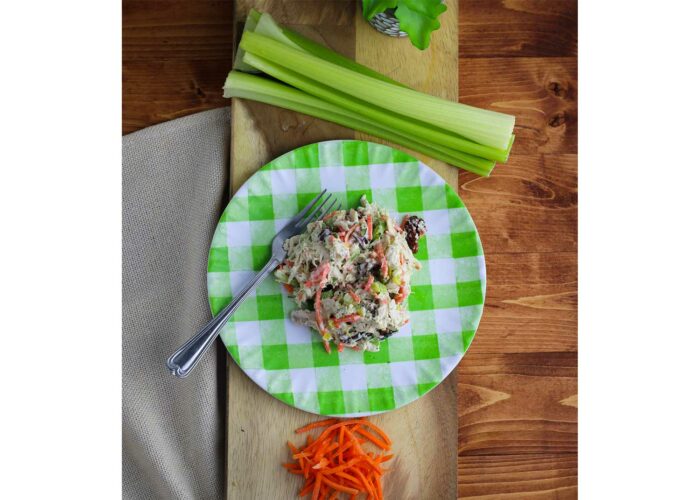 Ingredients
2 pounds cooked chicken breast, shredded or cubed
 1 1/2 cup keto-friendly mayonnaise (or make your own with a recipe like this

)

 1/2 cup full-fat sour cream
2 tablespoons apple cider vinegar
2 tablespoons dill pickle relish (optional)
6 oz onion, diced, sautéed
4 stalks celery, finely chopped
2 cups shredded carrot
6 oz pecans, toasted (whole or chopped)
1 1/2 teaspoon tarragon
1/2 teaspoon garlic salt
1/4 teaspoon black pepper
3 tablespoons olive oil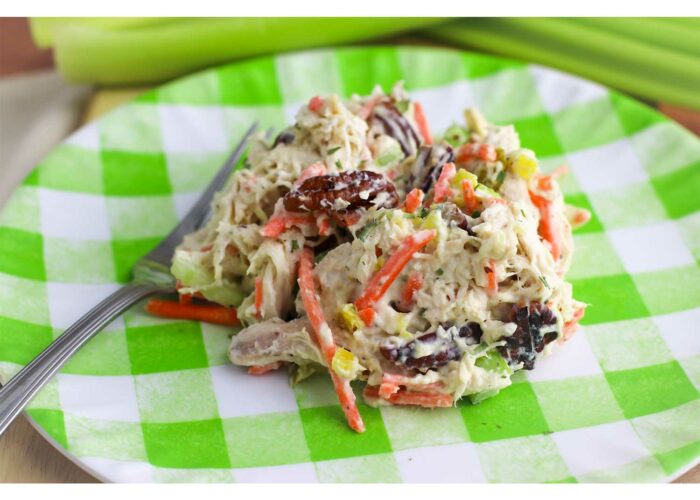 Directions
Poach, boil or sous vide seasoned (s/p) chicken breast. (Or you can use pre-cooked or rotisserie if that's easier for ya!)
While chicken is cooking, sauté onions until soft and translucent (or caramelized if you prefer). Once done, set aside.
Next, toast pecans in pan, moving around so they don't burn. Once they become fragrant, remove from heat and set aside.
Mix together all wet and dry dressing ingredients in small bowl.
Once chicken is cooked (165 internal temp), shred with fork or in mixer.
Combine all ingredients in large mixing bowl or pot.
Refrigerate for a 30-60 minutes and serve.
Store leftovers in airtight container for 3-4 days!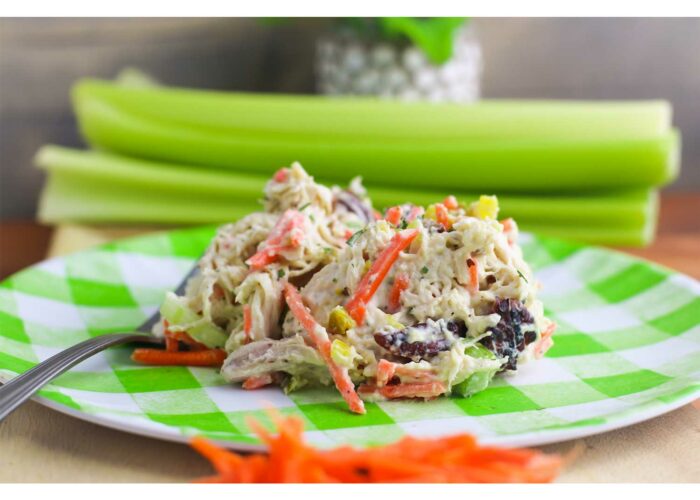 Notes:
Some people love pickles in their chicken salad and some think it makes it taste too briny – more like tuna salad. If that's the case with you, feel free to cut the relish down by half or leave it out completely!
Other nuts work great too like almonds, walnuts and even cashews! However, I find that pecans – especially toasted – bring out the best flavor in a chicken salad.
I know it might seem weird to sauté the onions for a chicken salad instead of throw them in raw, but I truly love the taste that a cooked, slightly caramelized onion brings out in this dish. But if you prefer raw, feel free to just throw them in!