Hannukah is finally here! And the festival of lights wouldn't be complete without decadent, savory potato latkes.
Whether you like them finely grated with a croquette quality or shredded more like a hash brown, you simply can't go wrong with this simple fried delicacy. I shred them so they have that delicious crispy outside with a pillowy softness in the middle. #Heaven.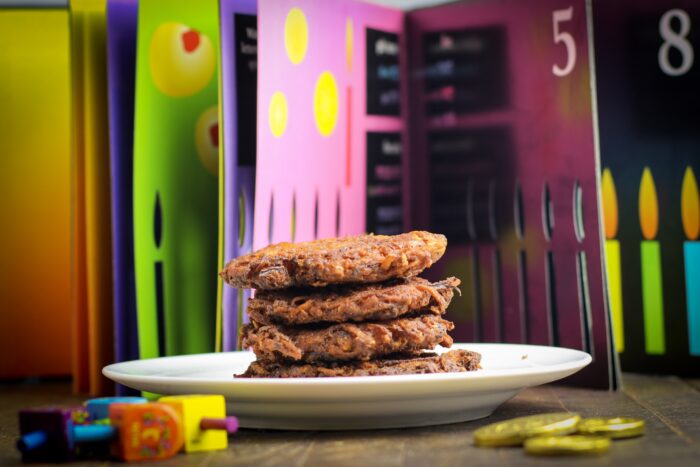 (And don't let anyone tell you that you have to be Jewish to make these! Give them a try and you'll have a taste of one of our beautiful holiday traditions.) And if you're still curious, here is a link to a kid-friendly retelling of the Hannukah miracle.
(Side note – If you're even remotely familiar with my website, you know I'm not one to go around using potatoes or frying things in buckets of oil. But oil is very important to this holiday as it signifies the miracle of the oil that was only supposed to burn for one night but ended up burning for eight!)
Also, a big shout out to this recipe that I used as a baseline, while adding my own tweaks when necessary. Thank you NY Times cooking section!!
Ok! Let's get latke-ing!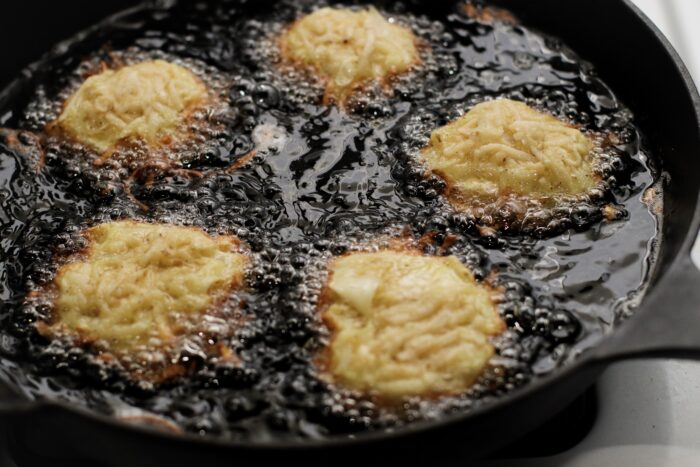 Ingredients
4 Russet potatoes
Oil with a high smoke point such as avocado, vegetable or grape seed
2 large onions
4 eggs
1 cup all-purpose gluten-free flour (I used this one)
4 teaspoons coarse kosher salt (or 2 teaspoon fine sea salt)
2 teaspoon baking powder
1 teaspoon freshly ground black pepper
Sour cream garnish
Applesauce garnish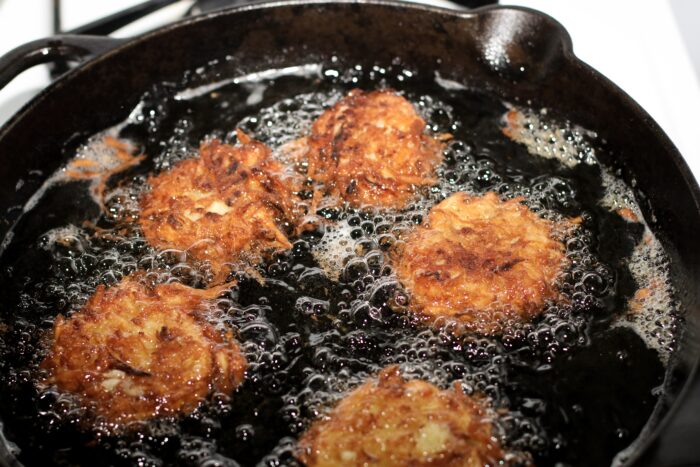 Directions
Scrub and rinse the potatoes and cut into quarters.

Feed potatoes into the food processor using the "shred" button.

Add to it peeled and quartered onions, feeding into the now shredded potatoes.

Lay a clean dish towel or heavy cheesecloth over a large mixing bowl and carefully scoop out shredded mixture onto the cloth. Pick up each corner of the cloth and twist, wringing out as much of the excess water as possible. (I prefer to do this over a bowl instead of the sink in case you slip and lose some the mixture.)

Dump shredded mixture, eggs, flour, salt, pepper and baking powder into your kitchen mixer and on the lowest setting, let it mix everything together for about 30 seconds. (If you don't have a mixer, you can do it by hand. Just make sure everything is well coated.)

Warm up heavy-bottom pan (cast iron works best) on medium-high heat.
Once hot, pour in about 1/4 inch of the oil. Once the oil is hot (to test this, drop a shred of potato in the pan and see if it starts to sizzle), form a patty in your hand using about 2 tablespoons of the mixture and carefully place in the oil, making sure not to spatter oil on yourself. (Use a spatula to further flatten the patty once it's in the oil if you like.)
Fry in oil without moving the patties for 3-5 minutes per side. (The edges should be a deep golden brown before flipping them.)
Repeat on the other side.
Transfer the latkes to a paper towel-lined plate and place another paper towel on top to soak up excess oil on both sides.
Repeat with the rest of mixture until you have a stack of latkes and paper towels!
Serve right away with sour cream and apple sauce as your sides and if you're not serving immediately, place latkes in the oven at 225 degrees to keep warm (without the paper towels of course!)