I have a major confession – I didn't grow up liking pesto. When given the choice between marinara, cream sauce and pesto, I'd ALWAYS pick the first two. In fact, that's one of the many things my fiancé and I had in common.
But a switch clicked in my head recently and now I'm PESTO-CRAZY. It's so fresh and delicious and fatty and easy to make, that I've been putting it on EVERYTHING – and my guy is loving it too! So here's a wonderful (and fairly standard) recipe that is made even better adding fresh lemon juice – that tip courtesy, of my good friend Randy Wang!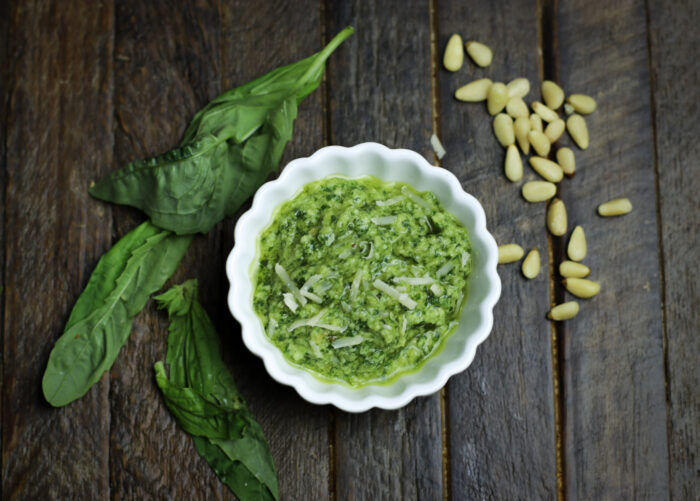 (This is the pesto I used on my latest #EatYourFeelings segment on the Adam Carolla Show, where I've now officially been for 5 years! Woohoo! Anyway,  Adam LOVED it and kept commenting on the pine nuts and parmesan. I'm glad it was such a hit.)
Ingredients
2 cups basil
1/2 cup pine nuts, lightly toasted
1 1/2 cup hand-grated parmesan
3/4 cup olive oil
4 garlic cloves
Juice of 1/2 lemon
1/4 tsp garlic salt (optional)
black pepper to taste (optional)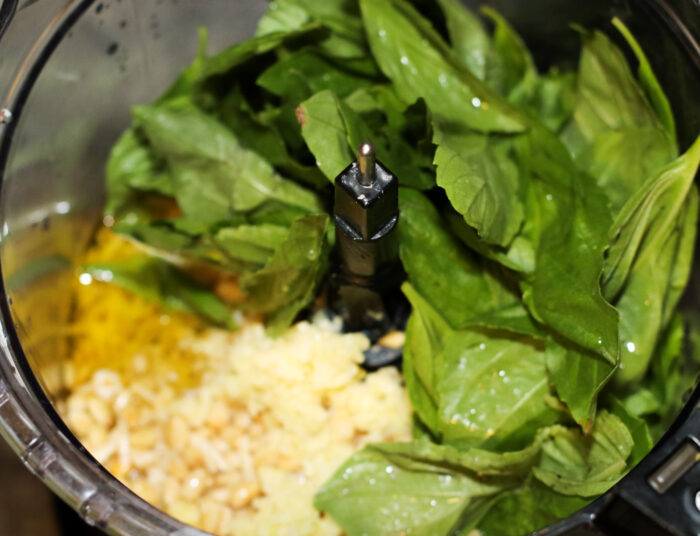 Directions
Pesto directions

Spray pan LIGHTLY on medium heat.

Toast pine nuts in pan, stirring constantly so they don't burn.

Toast nuts until fragrant (approx 5 minutes) (If they start to turn black and smell like burnt popcorn, they're burned!)

Add pine nuts, grated parmesan, washed basil leaves, olive oil, minced garlic and lemon juice into food processor.

Pulse until thoroughly mixed and "sauce-y".

Add garlic salt / pepper to taste if you desire.
Tips:
I can't even tell you how much better the pine nuts taste when you toast them. Personally, I think pine nuts are too expensive not to get every single flavor you can out of these power-packed pellets. So if you're going to bother buying them, definitely opt in on the toasting!
Everyone tends to put a different spin on their pesto. Some don't use pine nuts, some don't use parmesan and most don't add a splash of lemon juice (though I promise you it brightens up the sauce in the best way!) Feel free to do what works for you, but of course I recommend this one!
Pesto is worth using a nice olive oil. I'd be sure to get an extra virgin olive oil as it's not too "heavy" and has a light almost fruit-like finish. I'm not an olive oil expert, but I do like to get a decent one for dressings, dips, etc. Here's an article on the ones some chefs like that might be helpful.