I'm on round 15 of the Sopranos series (I'm not exaggerating! Oofa!) and the only major drawback to diving back into my favorite show is it makes me crave Italian food like nothing I've ever experienced. (Those Sunday dinner scenes leave my mouth watering for hours!)
So I decided to do my own Sunday dinner tonight – meatball casserole and wilted spinach on the side.
I know I have other meatball recipes on here but it's one of my favorite dinners on the planet and you can't have too much of a good thing! Let's do it again!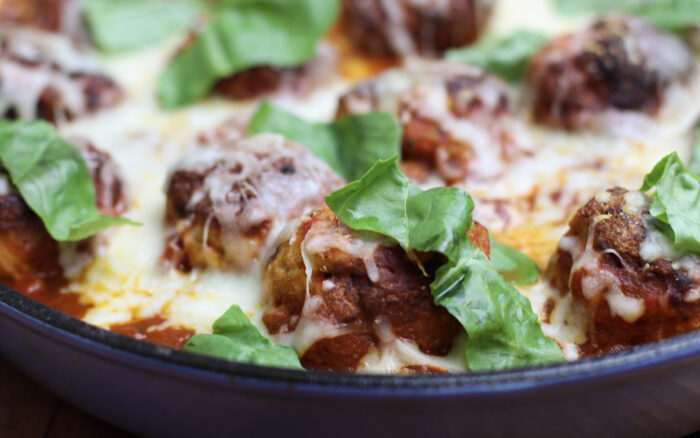 Ingredients
Meatballs
1/4 cup olive oil
1/2 cup diced onion
6 cloves of garlic, minced
2 lbs ground turkey
3/4 cup almond flour
2 eggs
1 cup grated parmesan
1/4 cup water (add as needed if mixture is too dry)
1 heaping tsp kosher salt
1/4 tsp ground black pepper
1/4 tsp dried oregano
1 teaspoon Italian seasoning
Sauce
3/4 cup shredded mozzarella
1 jar low sugar marinara sauce
1 8oz can diced tomatoes
Basil leaves to garnish
Directions
Preheat oven to 350.

Sauté onions in oiled skillet until golden and soft.

Add minced garlic, stirring constantly so the garlic doesn't burn.

Add all meatball ingredients to a large bowl and mix until fully combined.

Form golf ball-sized meatballs and place in hot, oiled pan.

Leave meatballs in place so they get a golden sear, about 3-5 minutes per side.

Take meatballs out of pan, set aside, and pour out excess oil.

Put pan back on stove on low heat.

Stir in sauce and diced tomatoes.

Put meatballs into the sauce and simmer with lid on for 20 minutes.

Remove lid, sprinkle mozzarella on top of meatballs and bake in the oven for 15 minutes.

Sprinkle torn basil on top and serve!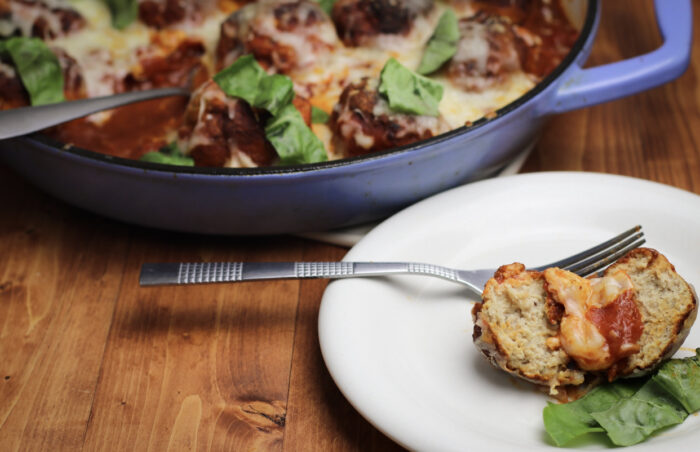 Here's what was left of dinner…
Notes
I had ground turkey on hand but ground chicken, pork or beef are of course perfect for meatballs!
If you like your meatballs with a kick, try adding red pepper flakes.
You can finish off in the broiler if you want the cheese golden brown, but watch them closely so they don't dry out or burn!