This pork roast is so damn delicious and tender and buttery and succulent and savory and comforting and…sorry I got lost in the moment! The point is that it's truly tremendous and much of the credit goes to Your Homebased Mom for the idea!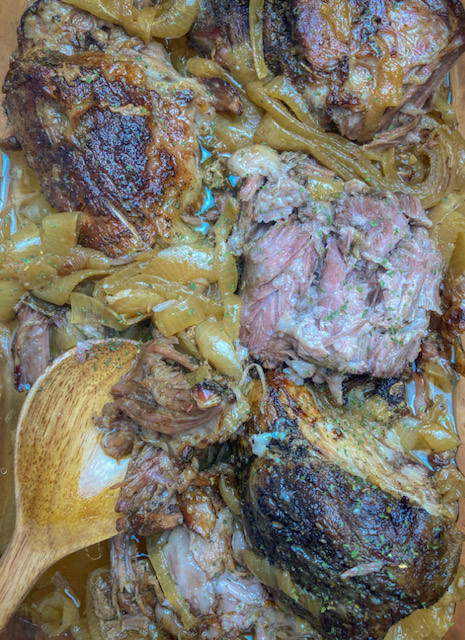 Now here's the thing…and listen up because it's IMPORTANT! The whole reason this pork was nothing short of perfection was because I cooked it low and slowwww. This is so important that I put it right in the title so no one would try to cook it in half the time on high. (I've done that more than once and though it's good, it's not as fork-tender and delectable. Your Homebased Mom says you can put the slow cooker on on hi  for 6 hours PLEASE trust me on this and either put it in around 8am or do it at night before you go to bed. Either way your house will smell amazing for 10 hours!
Another element to this deliciousness is the choice of sweet onions instead of red, white, or yellow. When you taste them with the au jus, you will swear you're eating the very best part of french onion soup.
When it comes to ingredients, simple is key. I use a roast rub and it's perfect. Also, the original recipe recommends 2 cups of chicken broth, but to me that's way too much. When I put meat in the slow cooker, there are times I don't put in any extra liquid at all since the meat and steam will produce it's own liquid. That being said, for this one, I quartered the original recommendation and went with 1/2 cup and that was the PERFECT amount.
Are you ready to do this? Let's do it!!!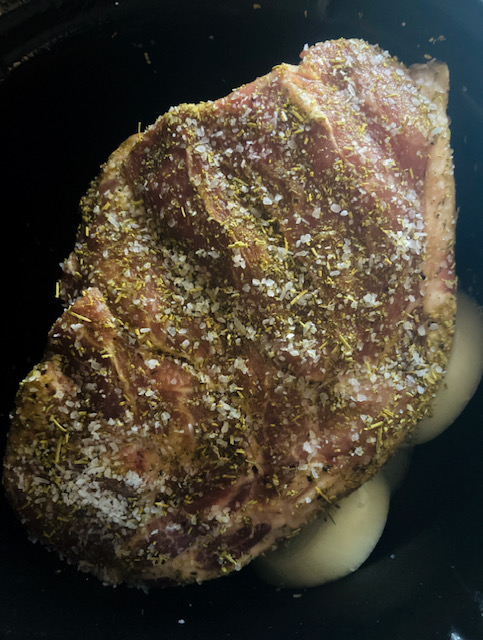 Ingredients
3-5 pound pork butt or pork shoulder
2-3 sweet onions, slicked thick
1/2 cup chicken broth
2-3 tbs roast rub of your choice. (I used California Rancher Roast Rub)
1 1/2 tbs kosher salt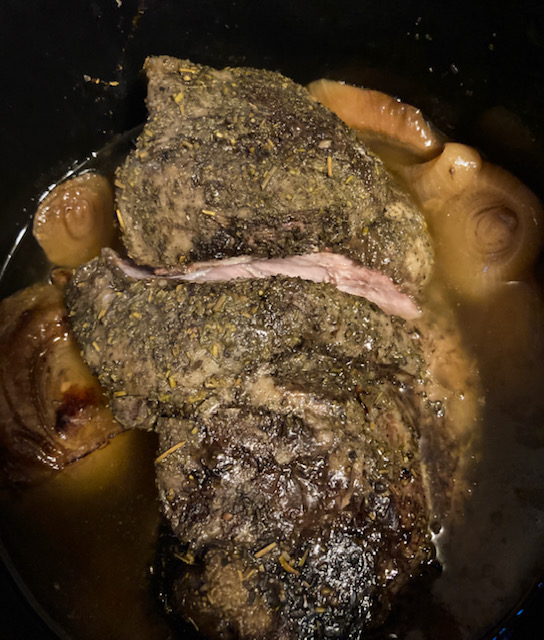 Directions
Lightly brush or spray slow cooker with olive oil.
Turn slow cooker on low so it starts to warm up.
Lay sliced onions at the bottom of pot.
Make several 1″ incisions into the meat, then rub the seasoning and salt all over the roast.
Once it's covered, lay the butt on top of the bed of onions.
Pour the broth onto the onions, next to the roast. Make sure you don't pour the broth over the roast or you'll wash off the seasoning.
Cover the slow cooker and walk away for 10 hours, leaving it undisturbed.
When the slow cooking is done and the meat is fall-apart tender, transfer the meat skin-side-up, onions and half the juices to an oven safe dish. Then and broil on high for 2-4 minutes, checking so it doesn't burn.
When the meat is crackly on top, pour the rest of the juice over the top and serve with a side of veggies, riced cauliflower or a salad!