You can't watch The Sopranos as many times as I have (24 times…I WISH I was kidding) and not crave Italian food during every scene. Over 20 years later, I still watch the parts where they sit down to a delicious family dinner and my mouth salivates.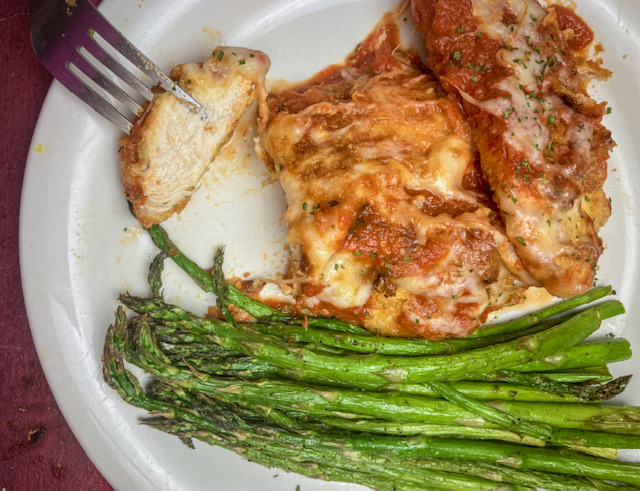 The rigatoni, manicotti, and Italian sausage are enough to make me turn off the TV and start cooking, but the chicken parm takes first prize for invading my dreams after every viewing.
The appliances you'll need for this particular recipe are an air fryer and a broiler. And if you're worried about the breading, don't worry. I got you!
Let's do this!
Ingredients
6 chicken breasts, butterflied and pounded thin
1/2 cup almond flour
2 eggs, beaten
1/8 cup (a splash) of milk
1 cup pork panko
1/2 cup grated parmesan
1 tbs baking powder
1/4 tsp garlic powder
1/2 tsp oregano
1/8 tsp black pepper
1 jar low sugar marinara
1 cup shredded mozzarella
olive oil spray
Directions
Butterfly chicken and pound thin, then pat dry.
Set up 3 bowls to dredge the chicken through – bowl #1 almond flour, bowl #2 whisked eggs and milk, and bowl #3 pork panko, grated parm, baking powder and seasoning.
Dredge each piece of chicken through each bowl.
Pre-heat air fryer for 4 minutes at 370 degrees.
Spray cooking oil onto the air fryer tray and place 3 pieces of chicken inside.
Spray a bit of oil onto the chicken and cook at 370 for 10 minutes.
After the 10 is up, flip pieces and cook for 5 more minutes.
Repeat with second batch.
Once chicken is done, spread marinara onto the bottom of an oven-safe casserole dish, place chicken on top, layer more marinara on top, and then sprinkle mozzarella over the sauce.
Broil dish, uncovered, for 3-5 minutes until cheese is gold and bubbly on top.
Enjoy!!