It's cold out there which means it's chili time. When you're cutting down on the carbs (and, for some people, tummy issues), it's best to leave out the beans!
This is a rich and savory dish that is great for a big group as well as meal prep and freezing for the NEXT rainy day!
Let's do it!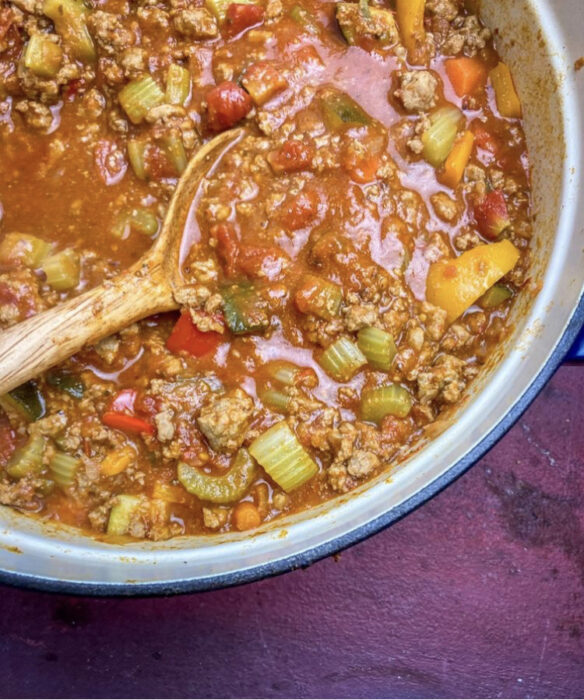 Ingredients
1 1/2 pounds ground turkey
6 strips of bacon
2 tsp minced garlic
1 1/2 cups onion, diced, about 1 large onion
1 cup chopped celery
2 cups chopped carrots
1 bell pepper (red, orange, or yellow)
1 1/2tablespoons chili powder
2 teaspoons ground cumin
1 teaspoon oregano
1 teaspoon salt
4 cups diced zucchinis (about 3 zucchinis)
1 15-ounce can tomato puree
1 15-ounce can diced tomatoes
Directions
Cook the 6 strips of bacon.
Season the ground turkey with salt and pepper before cooking and cook in the bacon fat.
Drain off the ground turkey and set aside.
Sauté onions until translucent (about 8-10 minutes). *Onions will continue to brown as other veggies are added.
Add carrots, squash and celery and cook until slightly soft (8-10 minutes).
Add cumin, oregano, and chili powder to veggie. Mix well.
Add zucchini, bell pepper and garlic and cook until slightly soft (4-5 minutes).
Continuously stir to coat veggies in seasoning and to keep them from sticking.
Transfer veggies, ground turkey and bacon into pot.
Stir in diced tomatoes and purée.
Bring to boil, then simmer for 20-25 minutes, stirring occasionally.
Serve hot with shredded cheddar, full fat sour cream or Greek yogurt, and chives!