Chicken cacciatore is hands down one of my favorite one-pot Italian dishes. It's savory and zesty and slightly creamy. 
You might be used to spooning something like this over pasta, but trust me when I say it is not necessary. Make it for family or good friends or anyone who you really care about. Because one bite of this and they'll get that message loud and clear.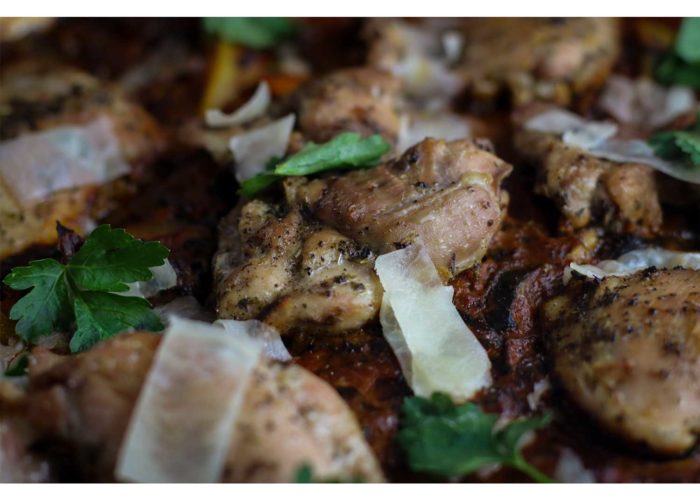 Chicken Cacciatore Recipe 
Ingredients
6 boneless skinless chicken thighs
1 orange bell pepper
1 chopped zucchini
5 oz frozen spinach
5 oz diced onion
4 oz sliced baby Bella mushrooms
2 teaspoons minced garlic
1 teaspoons garlic salt
1/2 teaspoon pepper
2 teaspoons oregano / Italian seasoning
1/4 cup heavy whipping cream
1/4 cup red wine
1 15 oz can of crushed tomatoes
1 bunch fresh basil
Olive oil cooking spray
Directions
Preheat oven to 400 degrees Fahrenheit.
Spray heavy bottomed oven-safe pan with olive oil and allow time to heat up. (If you don't have an oven-safe pan, transfer everything to a casserole dish before putting in the oven).
Seasoned chicken with s/p oregano on both sides and cook on a medium high heat for 3-4 minutes per side. Set aside. (The chicken doesn't have to be cooked through since it's going to finish cooking in the oven).
Respray pan and sauté diced onion until soft and translucent.
Add thickly diced zucchini and stir until slightly soft (3-4 minutes).
Add in mushrooms, garlic salt, pepper and oregano and stir until soft.
Add sliced bell pepper and stir until soft.
Mix in already thawed spinach, mixing it in slowly (because there's a lot of it!)
Sprinkle in basil (or basil paste if you prefer, though it'll add more salt).
Pour in crushed tomatoes and stir to coat.
Stir in whipping cream.
Stir in wine.
Carefully mix everything together (so it doesn't splatter everywhere) simmer uncovered for a few minutes until sauce blends and thickens slightly.
Place chicken back in the pan on top of the sauce mixture.
Place pan uncovered in oven for 25 minutes until skin is slightly crisp and internal chicken temperature is at least 165 degrees Fahrenheit.
Sprinkle some Parmesan and fresh parsley on top top and serve over zucchini noodles, grain-free pasta, or just spoon the yumminess into a bowl and eat it as is!