Being from Kansas, I have gone through about a million bottles of Ranch dressing in my life. But these days, I can't remember the last time I bought a bottle of Ranch dressing from the store. I much prefer homemade for it's freshness and lack of flavor chemicals and preservatives. But the BEST part of homemade Ranch dip is that you can dial in the seasonings exactly to your taste!
The recipe below is one  that really works for me. Give it a try!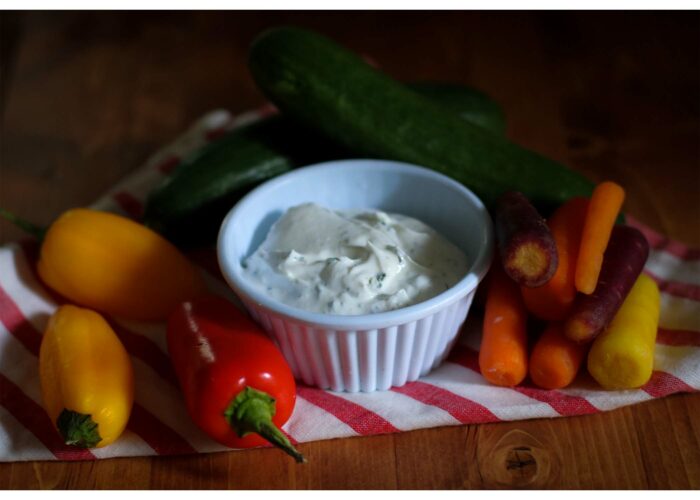 Ingredients
1 cup full-fat sour cream
2 tablespoons half and half (optional, if you want to thin it slightly)
1 teaspoon fresh lemon juice (optional)
2 teaspoons dried dill
1 teaspoon garlic powder
1 teaspoon onion powder
2 teaspoon dried onion flakes
1/2 teaspoon ground black pepper
1 1/2 teaspoon kosher salt
1 bunch fresh chives, chopped
Directions
Chop chives, set aside.
Scoop sour cream into medium-sized mixing bowl.
Squeeze in lemon juice.
Stir in dill, garlic powder, onion powder, onion flakes, black pepper salt and chives.
Stir together until all ingredients are evenly mixed.
Serve with veggies and store unused part in airtight container in fridge for up to about 3 days!
Notes
Everything in this dip can be adjusted if to your taste (and to what you have in your spice cabinet!)
Don't have onion flakes? Just use onion powder.
Fresh out of fresh chives? Use dried!
Not a black pepper person? Leave it out!
A lot of directions call for mayonnaise but frankly, I'm not a big mayo-in-my-dip kind of person. And unless you're making the mayo homemade, it's going to have a lot of sugars and chemicals you probably want to steer clear of anyway. Just my two cents!
Some veggie dip recipes advise you to mix all the dry ingredients together first and then dump the whole thing into the sour cream. I don't recommend this your first few times, because you're going to want to taste as you go to dial it in the way YOU like it. After you've made it the way you know you like it, feel free to mix dry ingredients together first OR make a big batch of dry ingredients and put it away for later!
Make it your own because the most important part of this recipe is that it's yummy enough to eat LOTS of fresh veggies with it!