Whenever I present these recipes on my "Eat Your Feelings" Segment on The Adam Carolla Show, I often boast about how easy the recipes are. And whenever I do, Adam generally calls "BS". I get it…multi-step cooking isn't for everybody. So this time, I tried to come up with a recipe that is SO easy, it is almost IMPOSSIBLE to mess up! So come one, come all newbies, home cooks and pros and let's make something simple, healthy and delicious together!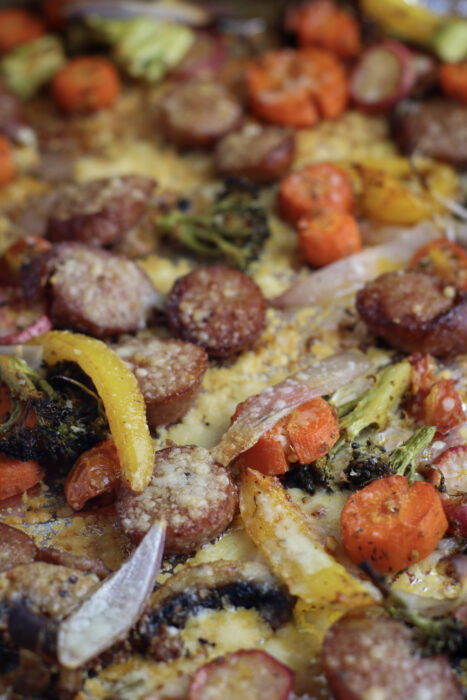 You can use practically ANY type of sausage and ANY type of veggies you want for this one – no wrong answers!
Here is one of my favorite ways to make this staple dish…feel free to add and subtract as you like!
Ingredients
5 Brats, cut into 2inch pieces (or one 12-ounce precooked sausage or kielbasa)

2 medium/large yellow bell peppers, cut into long slices (red, orange, or green pepper may be substituted)

6 oz sliced white mushrooms

2 medium shallots, sliced (or a small handful of pearl onions)

3 large carrot, peeled and chopped into 1/2 inch disks

1 bunch of radishes, ends removed, 3 slices per radish

1 bunch broccoli, chopped

1 small head of cauliflower, chopped

8 Brussel sprouts, sliced thin (3 or 4 slices per pieces per sprout)

1/2 cup grated parmesan

2 1/2 tablespoons olive oil

1 tablespoon minced garlic

Dry Seasonings

3/4 teaspoon garlic salt

1/2 teaspoon black pepper

2 teaspoons smoked paprika

1 teaspoon mustard powder

1 1/2 tablespoon oregano
Directions
Preheat oven to 400 degrees.
Wash and cut all veggies and pour into big mixing bowl.
Pour olive oil and dry seasonings over the veggies and stir together until fully coated. (I prefer to mix by hand with latex gloves.)
Cut meat into 2inch slices, set aside.
Cover sheet pan with lightly sprayed foil (for easy clean up) and spread the veggies and meat onto the sheet pan, making sure there's enough space in between so nothing is touching. (This is important so the veggies don't accidentally steam when they should be roasting. Spread out across two sheet pans if necessary.)
Roast veggies and sausage for 45 minutes, shaking the sheet pan and moving contents around about halfway through.
Remove pan from oven and sprinkle with grated parmesan.
Put back in the oven for 5 minutes, until the parmesan is melted (and even a little crispy) and the meat and veggies have a bit of a char to them.
Make sure the meat is cooked to at least 150 degrees.
Let cool for a few minutes, spoon into a bowl and enjoy!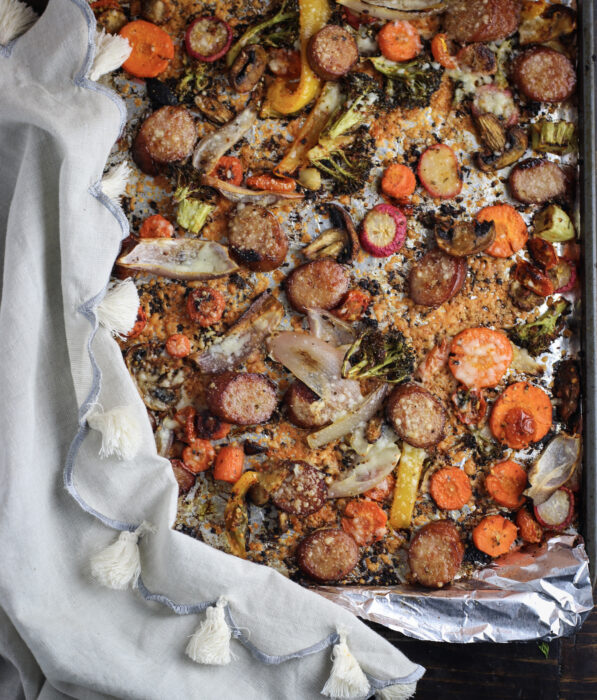 Notes
This recipe makes two sheet pans full of food so it'll make a lot! Great for a hungry group of 4 or 5 or great for two with leftovers.
This is also a great camping recipe as you can wrap this in foil and put in on the grill or do it over a campfire!
Again, you're welcome to shake up the meat and veggies any way you want! Sub in chicken, turkey or beef sausage and with veggies, go all cruciferous, leave out the carrots if you're worried about glycemic load, etc…
Feel free to leave out the meat altogether to make it vegetarian or leave out the parmesan to go dairy-free!