I wasn't planning on putting this on the site because I honestly didn't think it would be anything to write home about. Turns out I was very very wrong!!
This dish isn't just any plain old baked chicken. It is SO full of smokey, umami goodness that it's well worth adding to your weeknight rotation.
Ready to elevate your chicken breast? Let's do it!
Ingredients
4 chicken breast (I prefer thin cut or pounded thin)
4 strips of bacon
Garlic salt to taste
Ground black pepper to taste
4 slices or 1 cup shredded white cheddar cheese
Directions
Pre-heat oven to 400 degrees
While oven is warming up, cook bacon in cast iron skillet or heavy bottom, oven-safe pan.
When bacon is crisp, set aside and pour out half the bacon grease. (Leave the other half in the pan to cook the chicken.
Pat chicken dry and sprinkle garlic salt and pepper on both sides.
Turn up heat to medium high / high heat and sear chicken on both sides, about 4 minutes per side, checking to make sure it's not burning.
When the outside of the chicken is golden brown, place in oven for 15-20 minutes.
Take out check that internal temp is at least 165 degrees.
Sprinkle / lay cheese over the top of each breast and broil on high for 30-60 seconds, check to make sure it's not burning.
When cheese is gold and bubbly, remove from broiler and place one strip of bacon on each breast.
Let rest for 5 minutes and serve with your favorite side dish!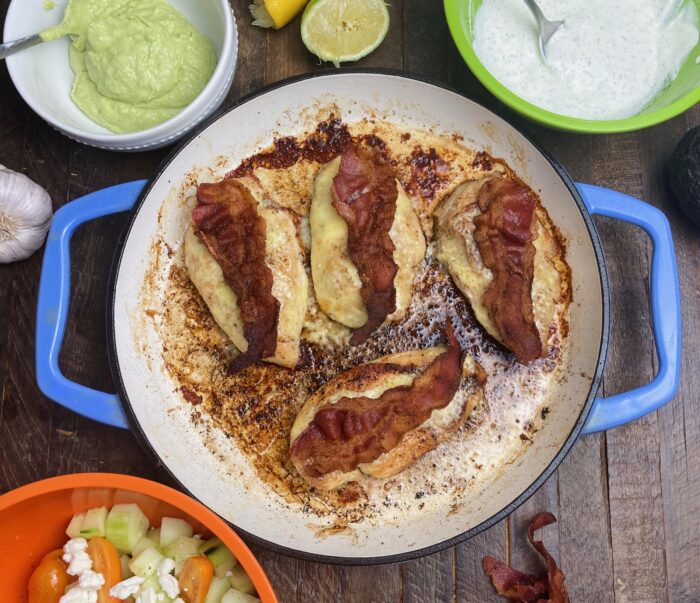 We like to serve this with homemade avocado cream and homemade ranch!
And a little Greek salad on the side rounds out a perfect summertime dinner!