Sunday mornings are my favorite days to make fridge-ttatas. There's nothing better than spending a lazy morning clearing out whatever spare ingredients are chillin' and throwing them in a beautiful brunch frittata. (It's also great for lunch AND dinner!)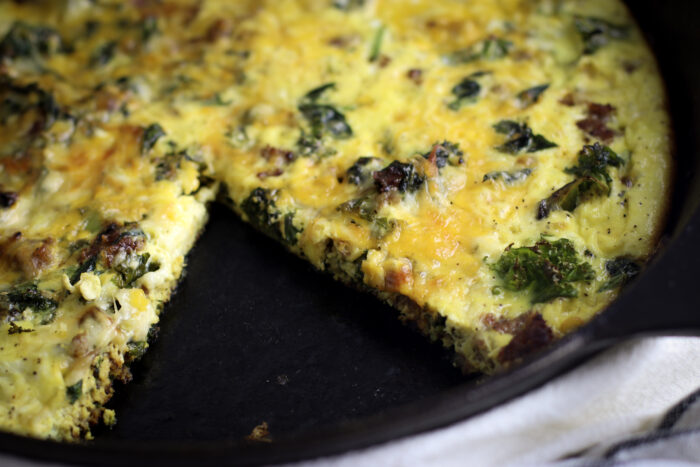 From veggies to meats to cheeses to random leftovers, you call ALL the shots in this meal (just make sure you have some eggs. That and a cast iron skillet or casserole dish are really the only requirements!)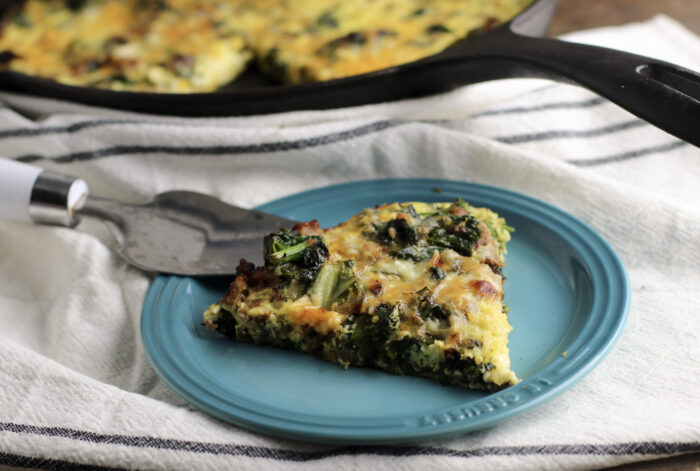 I'm going to list the ingredients that I used in this one, but this is one of a million possibilities – it's literally what I happen to have on hand).
Directions
Preheat oven to 400 degrees
Cook the bacon and sausage in cast iron skillet, then pat excess grease and set aside.
Pour off half the grease (never down the sink drain!) and brown the onions (about 10 minutes on stove, stirring occasionally so they don't burn).
Add kale to onion skillet. Coat with grease and then cover with lid (about 5 minutes) to steam the kale.
While kale and onions are steaming whisk together eggs, sour cream and milk, along with the black pepper and garlic.
Remove lid and add in spinach, stirring until wilted.
Sprinkle the mozzarella and cheddar over the mixture.
Pour egg mixture into the skillet over all the other ingredients.
With both your hands in oven mitts, pick up the skillet and gently tilt from side to side so the egg mixture coats all ingredients.
Place skillet in oven for 15 minutes.
After 15 minutes, check center of frittata with fork. If it comes out clean, it's done. If it's wet, put back in oven, checking every 3-5 minutes. (Remember…the frittata will continue to cook in the skillet!)
When the top is golden brown, remove from oven and let it cool slightly before serving.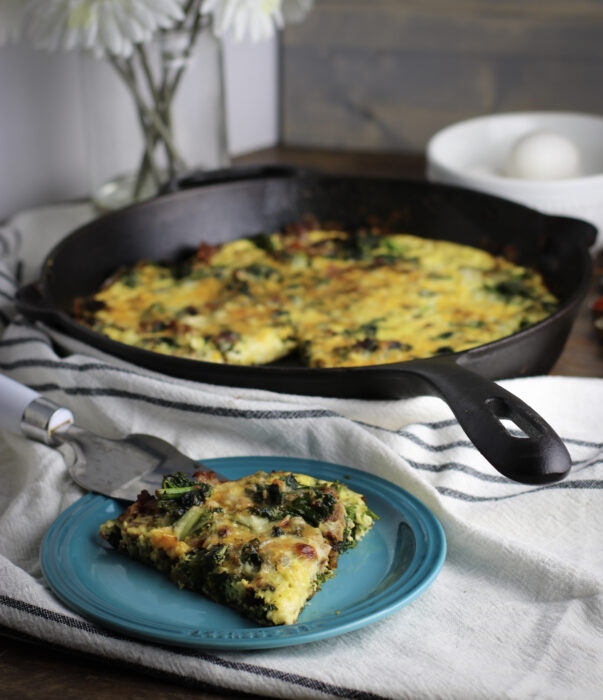 Notes:
As I've mentioned, almost any veggies, meats and cheese combination will work in this so get creative!
If you're things like bacon or cheese, you do NOT need to add any salt to this meal. Feel free to experiment with other herbs and seasonings but leave out the salt – trust me on this one.
If you don't have an iron skillet, cook the veggies in a regular pan, then before putting in the oven, transfer everything to a small casserole dish.
You may prefer to put the veggies in raw and have everything cook in the oven. If so, you might want to consider cooking the mixture at a lower temp (around 300 degrees) and allowing for extra cooking time so the veggies cook but the eggs don't burn. Just make sure you keep an eye on it!
*Do NOT put the meat in raw. That should absolutely be cooked first, in my opinion.