I had some beautiful pork shoulder, courtesy of Butcher Box in the freezer so I thought maybe I could will the weather to cool down by making something that screams autumn comfort food. (Ok, so maybe it's still 95 degrees, but this dish was a HIT on The Adam Carolla Show and it can be a hit in your house too!)
Because I haven't been braising for very long, I followed this amazing recipe from Our Salty Kitchen ALMOST to a tee, with only a FEW tweaks here and there.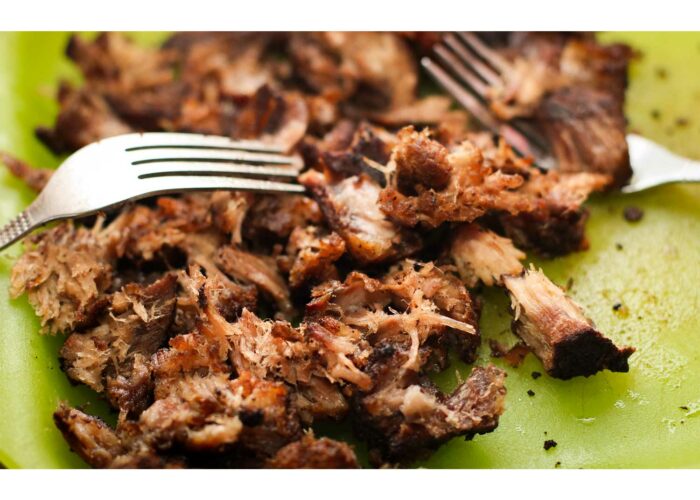 Ingredients
4 lb boneless pork shoulder or pork butt
2-4 tbsp olive oil (or something with a high smoke point)
2 tbsp smoked paprika
2 tbsp kosher salt
2 tsp black pepper

1.5 tsp minced garlic, dried or fresh

1.5 tsp onion powder
1 tsp oregano
Directions
Heat the oven to 300 or 325 degrees, depending on oven strength.

Mix the salt, pepper, smoked paprika, minced garlic, oregano, and onion powder in a small bowl.

Cut pork into 4″ chunks and rub in seasoning mixture.

Heat oil (medium-high) in heavy bottom pan or dutch oven and sear pieces on each side, about 4-5 minutes a side. (Don't crowd the pan or the meat won't sear properly. As Our Salty Kitchen suggests…do in batches!)

Add a 1/2 cup of water to the dutch over and put seared meat back in (feel free to crowd the bottom of the pan but try not to stack).

Cook for 3-4 hours until meat has an internal temp of at least 145 degrees and is deliciously tender.
You can either serve in whole pieces, shred with fork for pulled pork, or cut into smaller chunks for stew!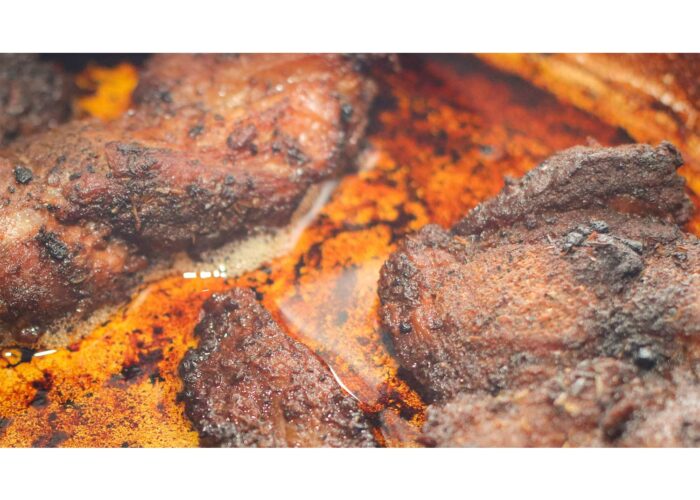 Notes
The 4lbs of pork I used was a little too much for the size of my dutch oven so I put the remaining pieces in an oven safe porcelain pan with a lid. The results were far crunchier and better for a pork jerky recipe. It wasn't bad, just less succulent and tender than using the dutch oven!
Many recipes don't call for searing but it is SO WORTH IT. It'll add a nice crispness to the top and lock in the flavor in such a wonderful way!