It's finally…FINALLY chili season! But as hard as it may be to believe, one can actually overdo it on ordinary ground beef chili stocked with beans and tomato paste. Don't get me wrong, it's DELICIOUS. But sometimes you have to "stir" things up a bit with a heaping ladle of (drumroll)…Adam Carolla Show-approved CHICKEN CHILI!!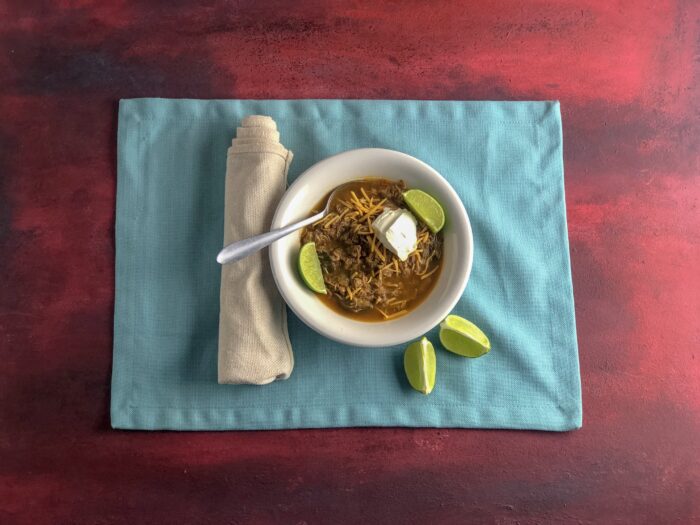 This recipe contains no tomatoes like an ordinary chili would. It also contains no beans or corn (unless you want to make it "Dirty Keto" and mash / blend 14oz cannellini beans for texture and thickness. But if you'd rather be strict "no grain," you really don't need it!)
Meanwhile, this is commonly called "white chicken chili," but when you use as much smoked paprika and cumin as I like to use – plus dark meat chicken thighs – the color becomes more of a "rustic sienna" at that point.
I used this wonderful recipe from Damn Delicious as a guide but gave it a few crucial tweaks to make it more #NSNG friendly.
Here we go!!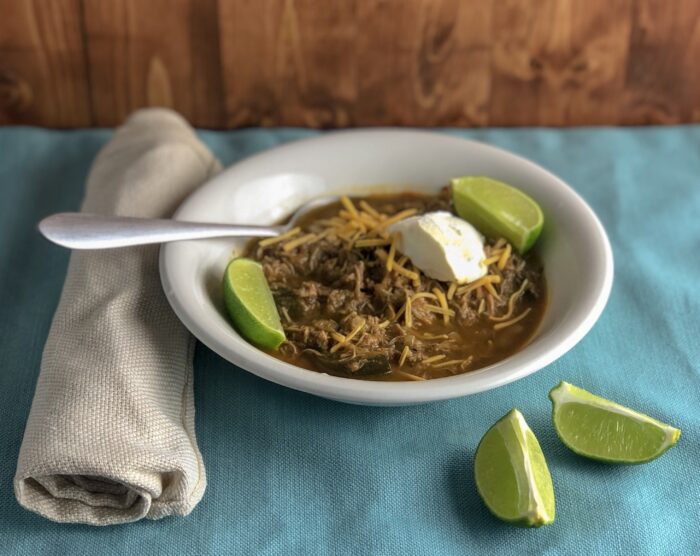 Ingredients
2 lbs / 5 or 6 chicken thighs (boneless and skinless)
1 cup chicken stock (Add more if you like It soupy, but less stock will make it more stew-like.)
2 tablespoons olive oil
3 large zucchini, washed and quarter-sliced
12 oz can of fire-roasted diced chiles
1 large onion, roughly chopped
5 cloves of garlic, minced (This makes it nice and garlicky. Adjust to taste.)
Kosher salt and freshly ground black pepper, to taste
1 1/2 teaspoon ground cumin
1 tablespoon smoked paprika (use regular if you don't have smoked)
1 teaspoon dried oregano
sour cream
shredded cheddar
fresh cilantro
lime wedges
Directions
Turn on slow cooker and place raw chicken thighs at the bottom (slow cooker on low for 7-8 hours or on high for 3-4 hours).
Sprinkle all seasonings over chicken.
Add fire-roasted chiles.
Add quarter-sliced zucchini.
Pour in chicken stock.
Put lid on top and allow ingredients to warm.
While slow cooker is warming, sauté onions in heavy bottom pan (about 10 minutes).
Stir garlic in with onions until fragrant.
Once onions and garlic are sautéd, add to slow cooker.
(If you're adding beans, use no more than 1 34oz can – either mashed or emersion-blended)
Let contents cook (based on low or high setting).
Once thighs are cooked, take out of pot and shred using two forks. Place now-shredded chicken back in pot.
Ladle chili into bowls and garnish with a dollop of sour cream, shredded cheddar, fresh cilantro and squeeze of fresh lime!