I follow and amazing woman on IG who has really helped inspire me to try new things and use ingredients I've used a hundred times but in a whole new way. She runs Tastes Lovely and she's awesome!!
All of her recipes are winners but when she tested roasting a jar of Trader Joe's artichoke hearts and they came out crispy and delicious, I knew I found my new go-to snack.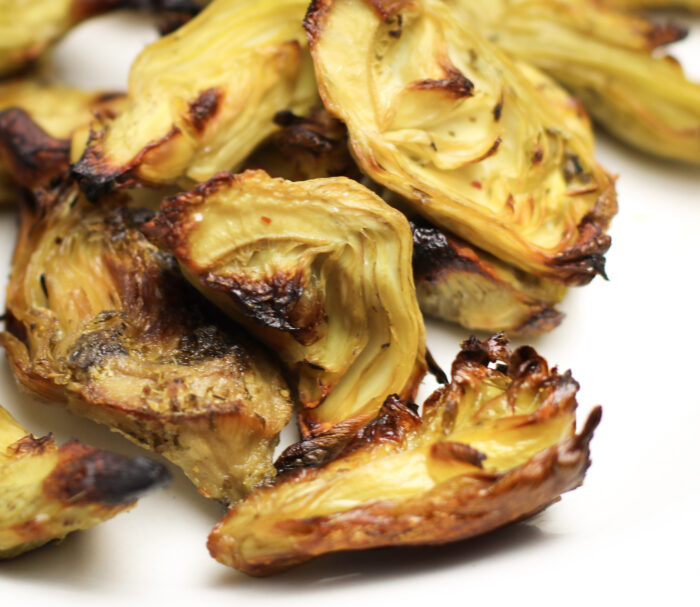 She has another recipe that includes using frozen hearts but I gotta say, straining a jar of the TJ hearts packed in olive oil, placing them on a wire rack and then roasting them at 400 degrees for 20-30 minutes (depending on your oven) yields you about two dozen crispy, briny, slightly sour, and so so savory hearts that are so heavenly, you will eat them all in one sitting. (Or at least I did. On two occasions.)
Directions
Pre-heat the oven for 400
Dump the hearts in a strainer to get rid of the extra oil.
Line each heart on to a rack over a roasting try (usually about two dozen per jar).
Place the rack in the oven for 20-30 minutes checking halfway through to make sure it's not burnt.
Serve hot with an aoli sauce or just eat on their own!
Tips:
If you want to do a great tapas spread, whip up a quick aoli sauce for dipping, some marcona almonds, manchego cheese and some prosciutto or salami. DELICIOUS!