For some reason, chicken cordon bleu has been rattling around in my brain since New Year's Eve but loving casserole as much as this little Midwestern girl does, I thought it might be fun do a "hot dish" version. But THEN, I thought it might be even MORE fun to take the leftovers, roll them into little balls with egg and almond flour and bake into savory appetizer COMPLETE with keto béchamel sauce. (Plus there are veggies snuck into every bite so you don't even have to make a side dish!) Starting 2020 off right!
Disclosure: Even though I was POSITIVE I had made this meal up, I noticed there were already recipes out there for both the casserole AND the meatballs! (Everything has already been invented I guess haha…) So I want to thank Wholesome Yum for giving me the idea to use cauliflower in this dish as I'm always looking for ways to incorporate cauli and other veggies for picky eaters get their veggies without even knowing!
*And not to brag but of COURSE Adam Carolla loved this dish on my "Eat Your Feelings" segment today!
So let's start with the casserole!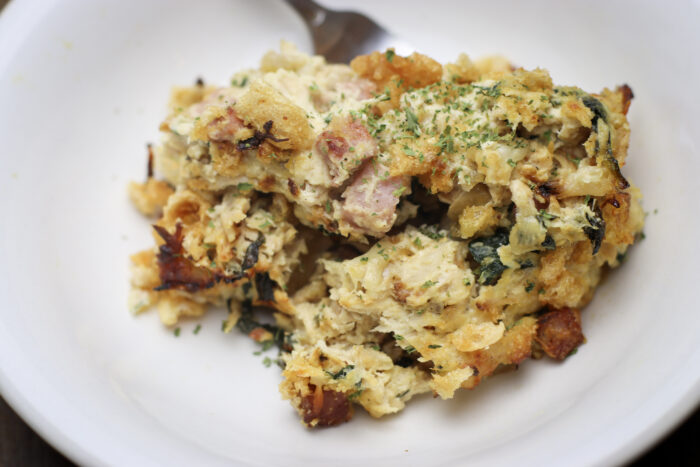 Chicken Cordon Bleu Casserole
Ingredients
1 1/2 pounds chicken breast
1 12oz bag of frozen cauliflower florets
8oz of ham, sliced or cubed
1 large onion, diced
3 garlic cloves, minced
1 8oz bag of spinach, washed
2 cups gruyere cheese, shredded (plus an extra 1/2 cup to top)
Kosher salt to taste
Ground black pepper
1/2 cup heavy cream
1/2 cup sour cream
2 tsp dijon mustard
Crumbled up pork rinds for topping (optional)
Directions
Pre-heat oven to 450.
While oven is heating up, toss cauliflower – still frozen – in olive oil, salt and pepper.
Roast cauliflower for 35-45 minutes, until veggies start to turn golden brown.
While cauliflower is roasting, season chicken with salt and pepper and cook all the way through on medium-high heat. Set aside.
Sauté onions until soft and golden, approximately 8 minutes.
Add in spinach by the handful until all is wilted.
Turn heat down and add in garlic, stirring constantly so garlic doesn't burn. Set aside.
Mix together sour cream, heavy cream and dijon in medium-sized mixing bowl.
Once cauliflower is roasted, combine all ingredients in a mixer on level one until everything is completely combined. (If you don't have a mixer, shred chicken by hand and then mix everything by hand in a large mixing bowl.)
Turn down oven to 400 degrees.
Transfer mixture to oven-safe casserole dish or skillet (adding extra shredded cheese and pork rinds if you wish).
Cook in the oven for about 15 minutes, until cheese is golden and bubbly.
Let cool for 5-10 minutes and serve!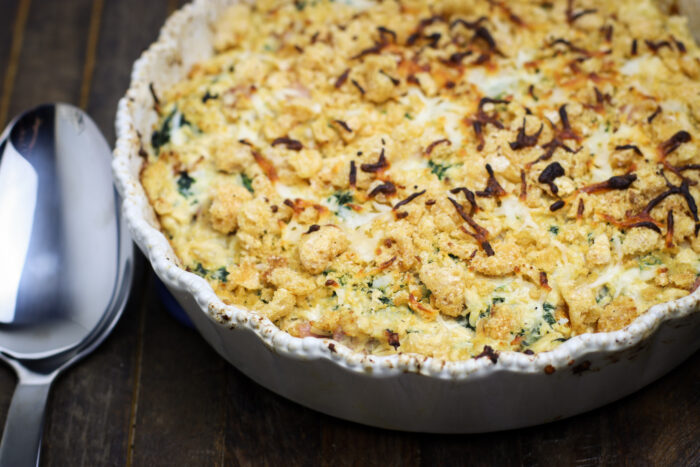 Now let's do the meatballs!
Chicken Cordon Bleu Meatballs with Bechamel Sauce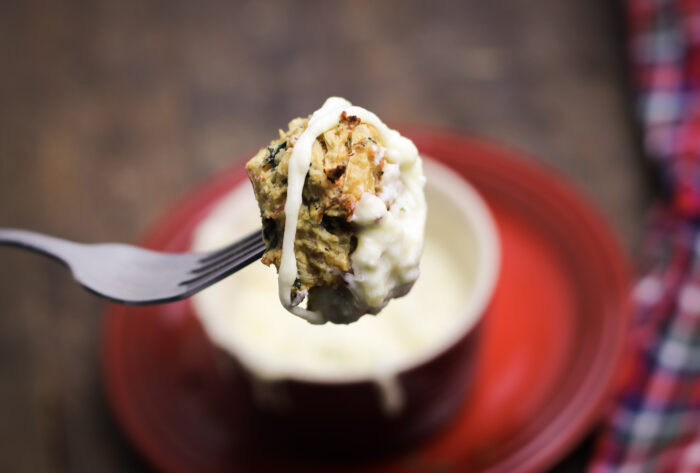 If you end up with some leftover mixture OR you double the recipe so you can also do the meatballs, here's all you have to add…
Ingredients
Chicken cordon bleu casserole mixture (feel free to add more cooked chicken and sautéed onions, about 1 more pound of chicken and another half onion.
1 extra cup of shredded cheese (gruyere, swiss or mozzarella)
1/4 cup extra heavy cream
1/4 cup sour cream
1 extra tsp dijon mustard
2 eggs
1 cup almond flour
Bechamel Sauce
1 8oz package of full fat cream cheese
8 oz of butter
1 cup shredded mozzarella
1/2 cup heavy cream
Directions
Pre-heat oven to 400 degrees.
Combine all cooked ingredients back in the good ol' mixer (or shred the extra chicken and mix everything by hand.)
Roll into golfball-sized balls and lay them onto a wire rack over roasting pan (so air moves underneath them and the bottoms don't get soggy).
Place rack in the oven for 15-20 minutes until the outer layer is browned and a little crisp.
While meatballs are cooking, melt cream cheese and butter in sauce pan or pot on low heat.
Once melted, stir in cream and shredded cheese by the handful until it's all melted in.
Continue to stir to avoid clumps. (Sauce should be thick, creamy and have a nice "pull" from the mozzarella).
Once meatballs are done, plate on top of sauce, with sauce over the top, or with sauce on the side for dipping.
Serve immediately and enjoy!