I have loved flavor-infused salts my entire adult life. There's just nothing better than opening up a well-crafted specialty salt and sprinkling it onto your favorite meat, casserole or stew!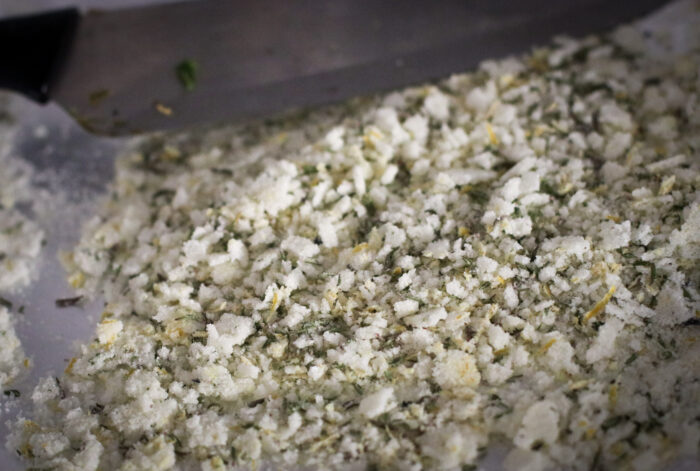 Well, after buying almost every infused salt that exists and being a bit underwhelmed much of the time, I figured I'd put my money where my mouth is and start making my own and I'm SO glad I did!
I've made some really lovely ones but this is one of my favorites – so versatile and bright and wonderful on fish. (That recipe is coming soon!)
Ingredients
1 cup coarse Kosher salt
3 tbs fresh thyme (roughly 6 sprigs, leaves only)
1 1/2 lemons
Directions
Preheat oven to 175.
Remove leaves from sprigs and set aside.
Use a lemon zester or cheese grater to remove the lemon rinds on one and a half lemons and set aside.
Pour thyme, zest and coarse salt into food processor and lightly pulse until grated and combined.
Spread mixture onto a baking tray and place in the oven 20-30 minutes or until ingredients are completely dry.
Take out of oven and break up clumps, either with the back of a wooden spoon or pulse briefly back in the food processor.
Store in air-tight container (resealable storage bag, plastic container, mason jar, etc…)
Use for cooking, baking and seasoning!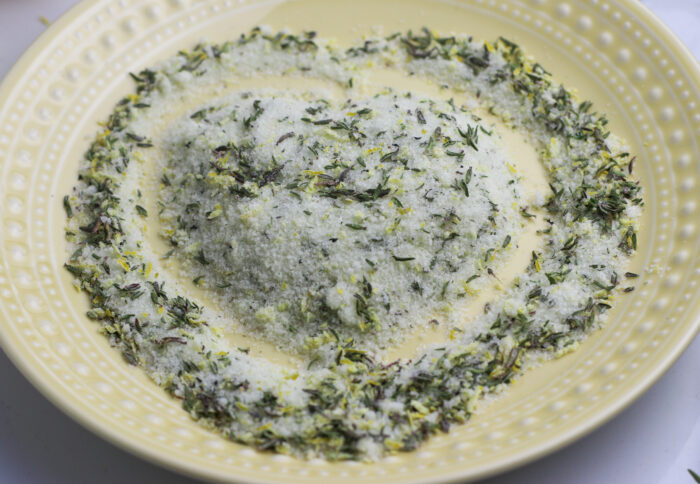 Tips
If you want to keep the salt grains as large as possible, finely chop the thyme by hand and skip the food processor altogether. Move everything straight to the baking sheet and into the oven!
If you're looking for a slightly more sweetness, try using a Meyer lemon or orange zest instead of a traditional lemon. Even a lime would be nice!
I personally like a larger grain of salt, but if you like your salt finer, pulse longer in the food processor or look for "finely ground" Kosher salt.