As some of you know, I am on a full-on homemade salt bender right now. I've always had a thing for infused salts but so many of them don't let the other flavors shine through so I started taking matters into my own hands – literally!
I went to the farmer's market last weekend in search of the perfect mushroom to add to my hand-crafted umami-fueled salt and though there were many beautiful and exotic choices, the mushroom expert at the stand told me Wood Ear would bring out the best flavor in what I was trying to do – a little smoky and woody….yes!!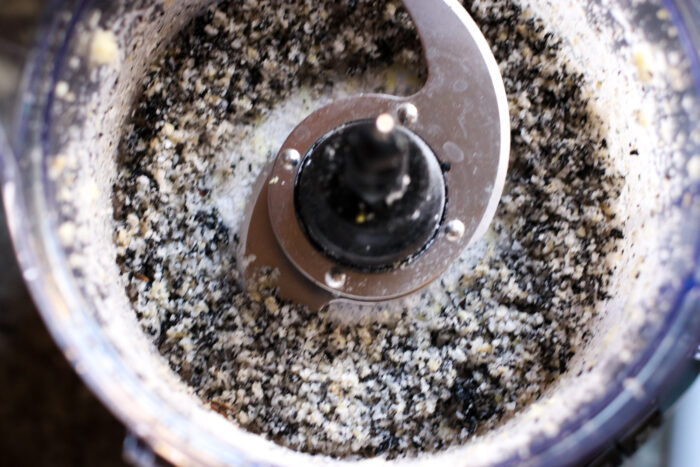 I bought a bag of them and went right home to "Gina's test kitchen."
The result is AMAZING. Earthy, garlicky and of course…salty. I'm about to whip up a riced cauliflower mushroom risotto and let this salt be the star. I'm so excited!!
Let's get salty…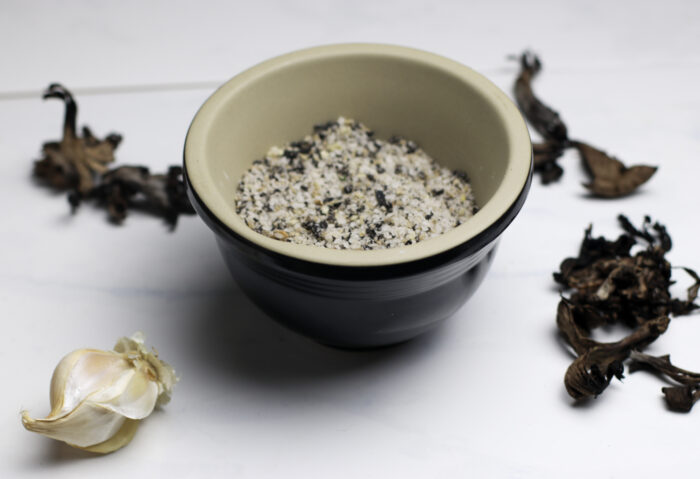 Ingredients
1/2 cup coarse salt
5 cloves garlic, minced
1 cup wood ear mushrooms (not-packed)
Directions
Pre-heat oven to 175 degrees.

Add minced garlic, mushrooms and salt in food processor.

Pulse until completely mixed and chopped.

Spread mixture out on baking sheet and place in oven so mixture can fully dry out.

Leave in oven between 30-45 minutes or until mixture is totally dry.

Take baking sheet out of oven and scrape salt off the sheet with a spatula.

Since the salt will be clumpy, either manually break up with the back of a wooden spoon, let cool and pour in a back where you can manually break up clumps with your hands OR put back in the food processor for a finer consistency.

Store in airtight container (resealable bag, mason jar, or plastic container) for 2-3 months
Tips
This salt is perfect for risotto, pork, beef, chicken, and pasta!
If you can't get your hands on any wood ear mushrooms, I'd try porcini, shitake and of course truffle!