If you've scrolled through my recipes on this site or on my instagram (@GrainFreeComfortFood) you know I have a love affair with Whatever's-In-The-Fridgettatas. Well the same rule goes for casseroles! When I come home from a long day, sometimes I just want to pre-heat the oven, grab whatever's in the fridge or freezer and make a yummy, warm casseroles that I can enjoy over the next few days. The one I made tonight was PERFECT for that. And I want you to experience that too.
And it goes without saying that yes…it's grain-free!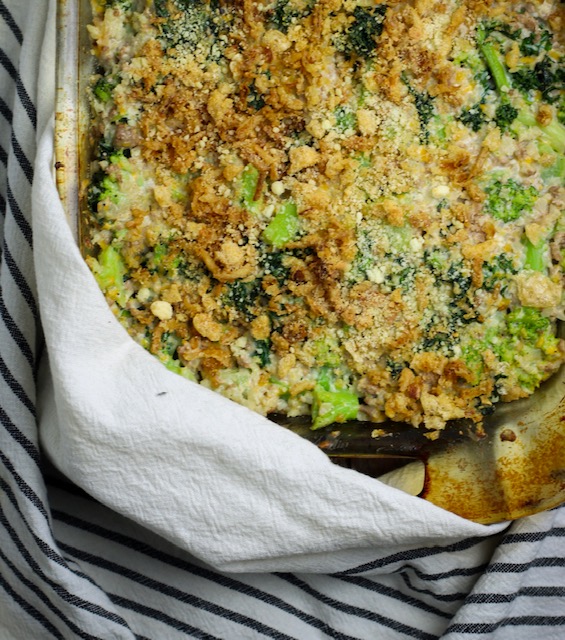 So let's get casserole-ing!
Ingredients
1 lb ground turkey

2 12 oz bags frozen broccoli florets

2 10 oz bags diced cauliflower

1 bunch fresh kale

3 shallots, peeled and chopped

garlic salt to taste

pepper to taste

umami powder to taste (optional)

(Or forego the garlic salt and use my wood ear mushroom garlic salt as this was PERFECT in this casserole).

2 cups hand grated cheddar cheese

1 1/2 cups full fat sour cream

1/2 cup crumbled pork rinds
Directions
Preheat oven to 375

Microwave the 2 bags of frozen broccoli, then the 2 bags of frozen diced cauliflower. (Once their cooked, drain, spin or squeeze out excess water from the veggies.)

While bags are being microwaved, brown ground turkey with seasoning in oiled cast iron skillet or heavy-bottomed pan.

Once browned, set aside.

Add shallots to skillet and cook on medium until soft and caramel-colored (about 8 minutes).

Once shallots are cooked, set aside with ground turkey.

Since the kale and add to the pan by the handful until it's soft and bright green.

Combine all ingredients, including sour cream and cheese into large mixing bowl.

Hand mix with wooden spoon or put in mixer on low until all ingredients are combined.

Spoon mixture into lightly greased casserole dish and sprinkle crumbled pork rinds and any excess cheese over the top.

Cook for 15-20 minutes or until top is warm and bubbly.

Spoon into bowl or onto plate and enjoy!

Keep as leftovers in airtight container for another 3-4 days. (GREAT for meal prep!)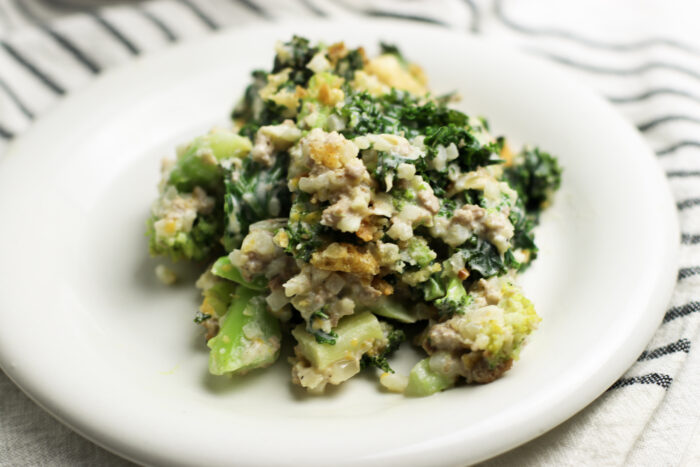 Tips:
The fun of this recipe is that virtually EVERYTHING is interchangeable.
Swap out the shallots for yellow onion!
Swap out the ground turkey or ground pork or ground beef…you can even add bacon!
Don't have cheddar on hand? Try parmesan!
Swap out the broccoli or kale for zucchini, spinach or Brussel sprouts! (Just make sure whatever veggie you use, you squeeze or spin out the excess water to avoid your casserole getting soupy.)