My fiancé has been on the hardcore NSNG kick since January 1st. The whole diet change has been surprisingly easy for him except for one little thing…he misses pizza more than he can put into words!
So obviously I had to whip up a delicious cauli-crust pizza that would really hit the spot…
I know there are many frozen cauliflower crusts on the market and I'm sure many of them are good. But making it at home is pretty easy and then you get to claim all your bragging rights as a grain-free pizza chef! Give it a try!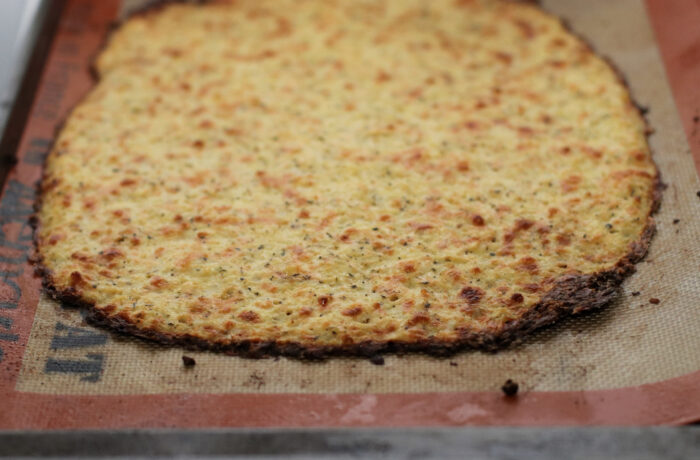 Here we go…
Cauliflower Crust Ingredients
Ingredients
2 10oz bags of frozen riced cauliflower
1/2 cup hand grated Parmesan
3/4 cup mozzarella, shredded
1 egg
1/2 tbs Italian seasoning
1/2 tsp garlic salt
black pepper to taste
Pizza Ingredients
Ingredients
1/4 low sugar marinara or homemade marinara
1/2 cup mozzarella, shredded
Pepperoni
6 basil leaves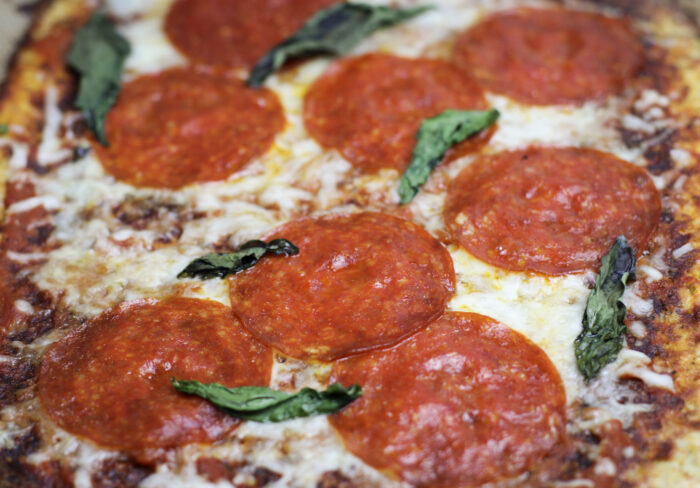 Directions
Pre-heat oven to 400 degrees.
Microwave bags of riced cauliflower (approx 4 minutes for each bag).
Squeeze excess water out of cauliflower, one bag at a time with a clean dish rag, then place in a large mixing bowl.
Add parmesan, mozzarella, egg, and seasoning to the bowl.
Either mix on low with electric mixer or by hand with wooden spoon until ingredients are completely combined.
Spread mixture out on parchment-lined or Silpat-lined (my preference) pan until it resembles a rectangular shape. (Do NOT use aluminum foil for this, even if it's greased. The crust will stick to the foil and you'll never get it off!)
 Bake for 20-25 minutes, checking the edges periodically to make sure they don't burn.
Flip the crust over and cook for another 5-10 minutes so both sides are baked.
Once crust is cooked on both sides, add sauce, cheese, pepperoni and basil and cook for another 5-10 minutes.
Cut into slices and serve hot! (I'd tell you to store leftovers in an airtight container, but there won't be any leftovers!)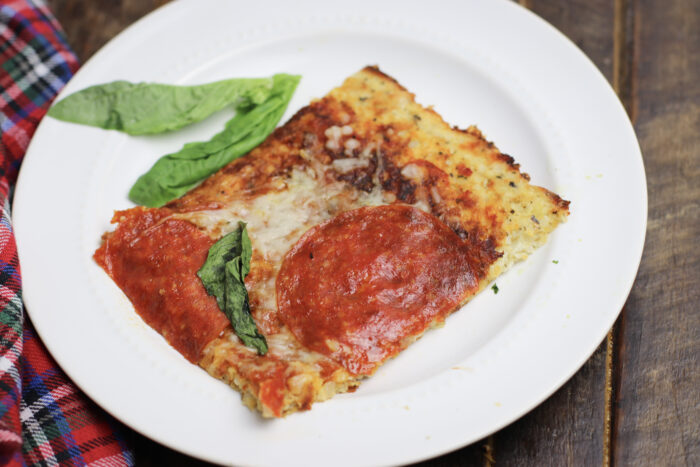 Tips
If you use flavored riced cauliflower (like roasted garlic, Italian herb or three cheese blend) you'll probably want to bak off the seasoning and salt for the mixture.
Feel free to go crazy with the toppings! Sausage, mushroom, onion, olive, artichoke hearts, peppers, shredded chicken, ricotta…whatever your favorites are!
Others use cream cheese in the crust like they would for cloud bread, but I prefer this recipe because in my opinion, it comes out a little crispier.