I was tasked on the Adam Carolla Show with coming up with a "Game Day" treat that would compliment any football viewing party and my first thought was "who the heck doesn't love a popper??"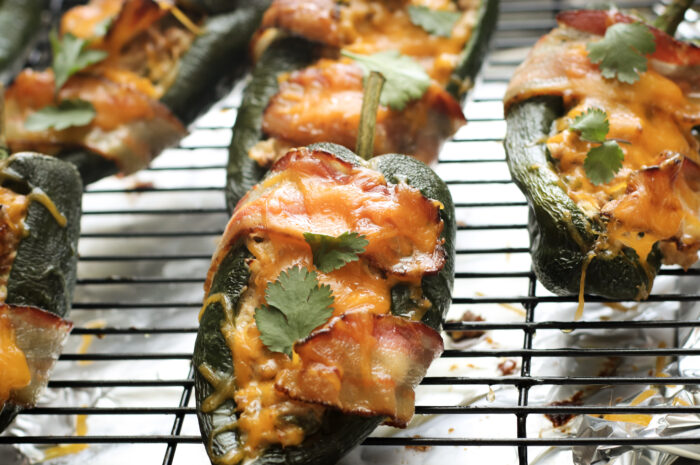 But I wanted to do something a little more substantial that felt like more of an entree than a snack. So that's when it hit me – STUFFED POBLANO BOATS!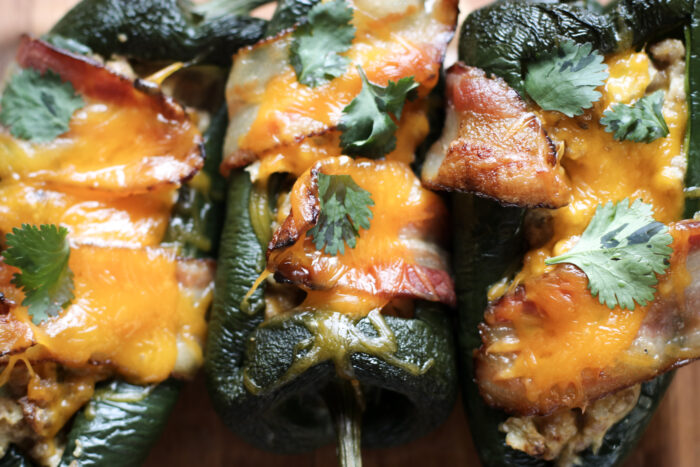 These ooey-gooey pepper boats are stuffed full of seasoned meat (and riced cauliflower but I won't tell if you won't!) They're smokey and toasty and wrapped in bacon-y goodness. For a party or a super fun family dinner, you really can't go wrong!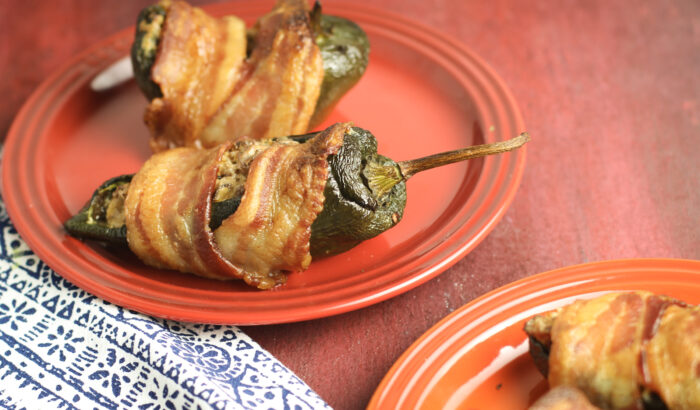 Ingredients
6 Poblano peppers
1 lb ground turkey, pork, beef or chicken
1 8oz package of room temperature full fat cream cheese, cubed
5 oz frozen riced cauliflower
1 cup shredded cheddar, packed (plus a little extra to put on top of peppers at the end)
5 oz diced onions (1 small onion)
1/2 bunch cilantro, leaves only
6 strips bacon
4 garlic cloves, minced
1 1/2 tsp salt
1 tsp cumin
black pepper to taste
3 tbs olive oil (1 for onion, two for ground meat)
umami seasoning to taste (optional)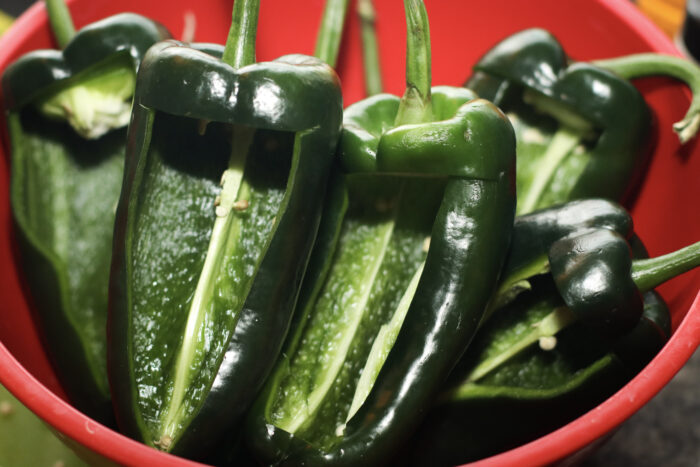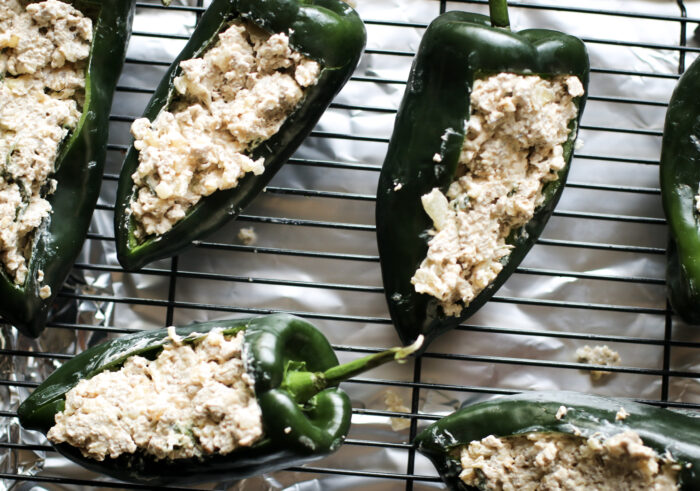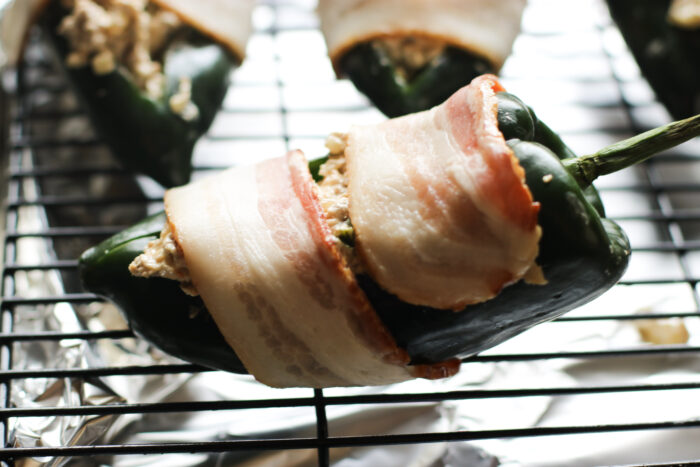 Directions
Preheat oven to 400 degrees.

Sauté onions at medium heat until soft and slightly carmelized (about 8 minutes).

About halfway through sautéing onions, add minced garlic, stirring frequently so it doesn't burn. When finished, set aside.

Swish more oil into the hot pan. Then add ground meat and all seasonings until halfway cooked.

Add frozen riced cauliflower to the seasoned meat and stir together until all is cooked through and the water in the pan is cooked off.

Once cauliflower and meat is cooked through, add cream cheese, shredded cheese, cilantro leaves, onions and garlic to the cauli / meat mixture and stir until all is coated and melted.

Set aside. Time to cut the peppers!

Lay the pepper down on a cutting board and cut a triangle out of the top, cutting the entire length of the pepper.

Carefully remove the seed bulb (or "placenta") from inside the pepper, leaving the top and the stem intact.

Fill the "pepper boats" with the mixture.

Wrap each pepper with an entire piece of raw bacon, draping over the top and winding down to the end. (Use two toothpicks if your bacon isn't staying put on its own. *Mine always does, but feel free to secure with toothpicks.)

Place peppers on a wire rack that fits over an aluminum foil-lined roasting pan and place in oven. (It's important that the hot air circulates under the bacon and bottom of peppers).

Roast peppers 25-30 minutes or until bacon is cooked through and peppers have a slight char to them.

Turn off the oven, sprinkle a little cheddar on top each pepper and and put them back in the still warm oven so the cheese melts on top.

Serve hot with sour cream, ranch, salsa or on their own with a little more cilantro on top!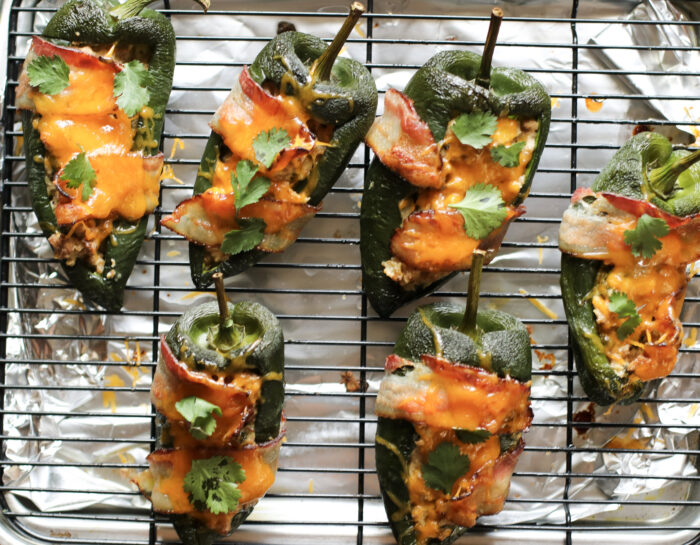 Tips
I've been sneaking riced cauliflower into ground turkey and pork for a while now but not until Natalie from Tastes Lovely did I know you could add it frozen right into the pan! You're a genius, Natalie! The water will cook off and you can skip the thawing step!
If you like the tops a little crispier, pop the peppers in the broiler, checking every 20 seconds before you add the cheese. (Seriously though – check frequently so your poppers don't burn!)
If you like your peppers a little spicy, leave the rib and some of the seeds in each pepper. (I know these aren't hot peppers but you're going to want to wear something over your hands when you're de-seeding these! You'll thank me when you reach up to rub your eye later!)
Truly feel free to use any ground meat you like! (I've done ground turkey and pork and they're both great.)
Unlike jalapeños, these peppers are much larger (and milder) which makes 2 of them a perfect entree!
To make these completely vegetarian, skip the meat altogether and add mushrooms and other finely chopped veggies to the riced cauliflower and mix with cream cheese / shredded cheese on their own!