It truly felt like spring today…Warm sunshine, gentle breeze, singing birds. All the windows were open in the house and I had a hankering for something light and fresh and crisp that I could eat a LOT of.
Enter, a bright shrimp salad!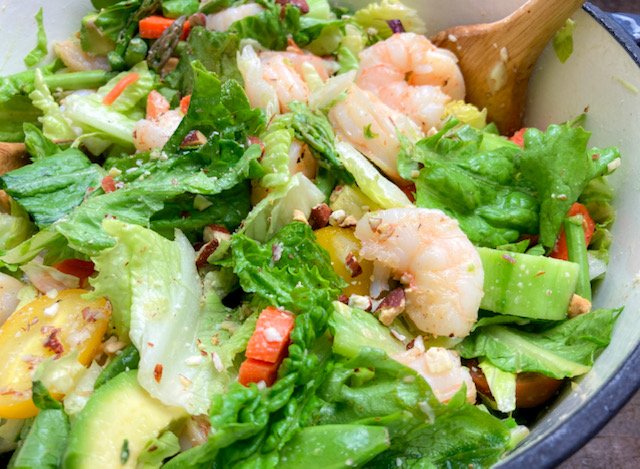 I grabbed every vegetable under the sun, along with some other secret weapons and we DUG IN!
Your veggie choices may differ from mine, both in variety and quantity so make it your own! (But whatever you do, don't skimp on the chopped almonds! The nuttiness and huge crunch tie everything together, making it my go-to secret salad ingredient. Plus, the almonds and the avocado provide your "good fat" so don't skimp!)
This salad is a celebration of wonderful spring and summer produce…
Ingredients
1lb shrimp, raw
1/2 tbs olive oil
1/2tbs garlic powder
1/4 tsp kosher salt
1/8tsp black pepper
juice of 1/2 lemon
1 head of romaine, cleaned and chopped
2 carrots, peeled and diced
1 half bunch asparagus, chopped
1 cucumber, peeled and quartered
2 cups cherry tomatoes, halved
1 cup snap peas, halved
1 small avocado, cubed
1 cup almonds
Directions
For the shrimp: rinse, pat dry and coat with olive oil, garlic powder, salt and pepper.
Put shrimp in air fryer at 400 degrees for 8-12 minutes, flipping once halfway through.
Once cooked, remove from air fryer and either leave out at room temp or place in the fridge until cooled.
Add all veggie ingredients to a large serving bowl.
Place almonds in a plastic baggie and break up with meat tenderizer or rolling pin.
Once the shrimp has cooled, toss with with lemon juice and place in salad.
Sprinkle the almonds over the top.
Add dressing of choice or toss with a little vinegar and oil…or enjoy it clean!