I've posted salmon recipes on here before and it tastes excellent. But tonight I took this meal to a new level and HOLY SMOKES I'LL NEVER GO BACK!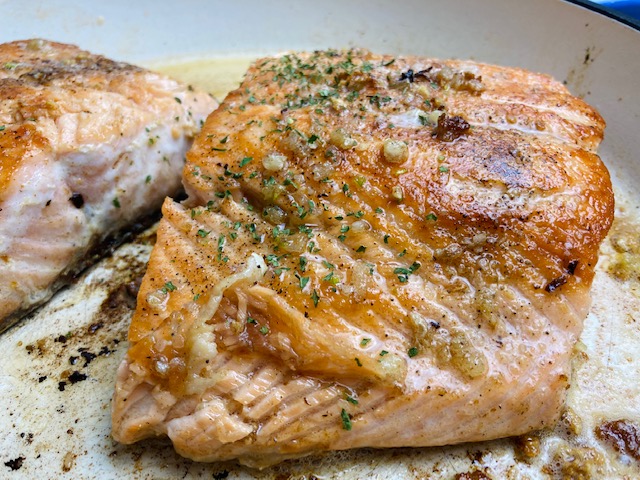 The secret to this pan-seared salmon is basting it with minced garlic and melted butter. What is basting you ask? I certainly couldn't explain it better than Bon Appetit could, so let's let them do it: "To properly baste in a pan, add extra fat just before the protein is done cooking (do not add excess fat in the beginning, or it will burn and/or fry the food). When it melts, tilt the skillet at an angle so the fat pools at one end. Use a large spoon to collect the fat and dump it over the food, coating evenly."
Let's get going on this delicious dish!
Ingredients
1 salmon filet
kosher salt and black pepper (to taste)
2 tbs olive oil
1 1/2 tbs butter
2 garlic cloves, minced
Directions
Let salmon sit at room temperature for 15-30 minutes before cooking so it cooks evenly.
Heat pan, then add olive oil till it shimmers.
Before adding the fish, pat it dry and add a black pepper and a generous amount of kosher salt to each side.
Once the pan is hot, place salmon down skin-side-up and – this is very important – DON'T MESS WITH IT! Let it get nice and golden brown on top for 4-5 minutes.
After the top is seared, gently flip over and cook skin-side-down for 3-4 minutes.
Before the salmon is done cooking, turn heat down slightly, add the butter to the side of the pan closest to you. (It'll start to froth and turn a bit darker.
Throw minced garlic in the butter.
With an oven mitt, carefully tilt the pan toward yourself and spoon the garlic and melted butter onto the salmon until it's all absorbed into the filet.
Turn off the heat and let it rest for a few minutes (the salmon will continue to cook a bit).
Spritz some fresh lemon juice (and dill sauce if you like) on top and serve with your favorite veggie on the side!