My wonderful fiancé decided to upgrade my air fryer situation for my birthday and tonight was the inaugural dinner!
I'd been using my trusty little 4 quart Ultrean that I have LOVED since I first got it. But I've been feeling the urge to graduate lately so my guy decided to surprise me with the Ninja Foodi Dual Zone Air Fryer so I can make my protein AND my sides at the same time which saves at least a half hour for dinner prep! Huzzah!
But I digress. The chicken I made tonight was so mind-blowingly crispy on the outside and juicy on the inside, that it tasted JUST LIKE something you'd get at an upscale restaurant. And it was EASY!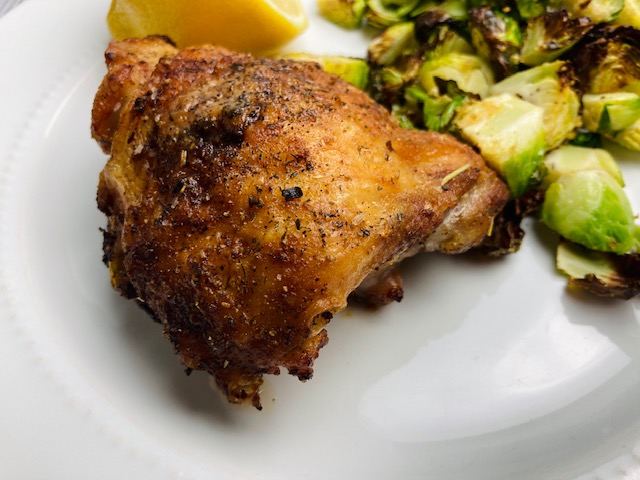 There are plenty of good air fryer chicken recipes online but a lot of them don't include one special ingredient that helps make the chicken skin crisp up like you wouldn't believe. Drum roll…BAKING POWDER! (*NOT baking soda! They are NOT interchangeable).  Just a dash of the white, powdery substance makes a big ol' crispy difference so don't forget it!
Ingredients
4 chicken thighs skin on (I also prefer bone-in)
1 tsp coarse Kosher salt
1/8 tsp ground black pepper
1/2 tsp baking powder
1 tsp paprika (smoked preferably)
1 1/2 tsp garlic powder
1 tsp onion powder
1 tsp Italian or Greek seasoning
cooking spray (avocado preferably)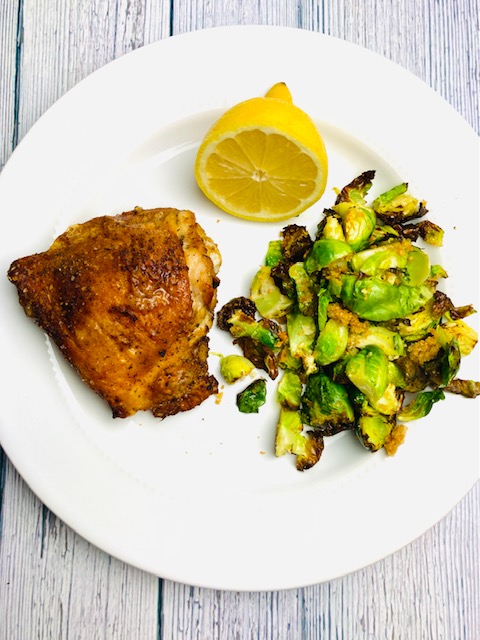 Directions
Place thighs on a foil-lined plate or tray (makes clean up easier) and pat down with a paper towel.
Pre-heat the air fryer for 3-5 minutes at 380 degrees so the chicken cooks evenly.
Combine all dry seasonings in a bowl and season both sides of each of the thighs.
Hit the inside of the air fryer with a little cooking oil and place the chicken skin-down inside.
Cook the thighs for 22-24 minutes (depending on your air fryer), flipping them to skin-side-up halfway through.
Let chicken rest on a plate covered by loose foil for 10 minutes to optimize juciness.
Serve with your favorite side dish!