This meal combines two great cultures (Korean and Chinese) into one incredibly delicious umami taste!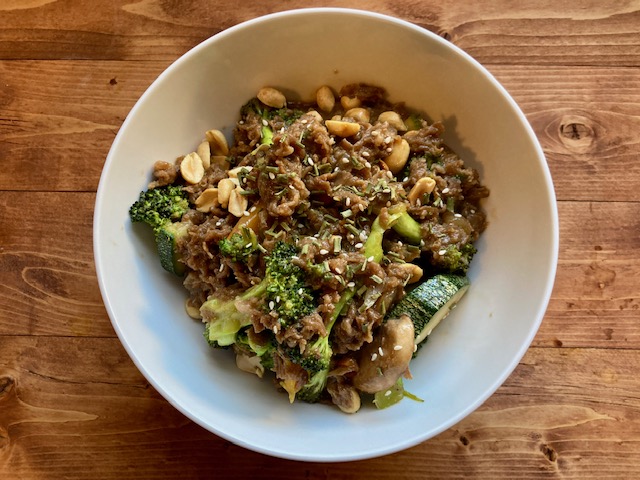 I brought this in for the Adam and Bryan on the show today and darned if they didn't say this was the best thing I have ever brought in! So packed with umami flavor, crisp veggies and melt-in-your-mouth meat!
INGREDIENTS
1 lb shaved pork (you can do shaved chicken or shaved beef as well!)
Veggies of choice. I use:
1 zucchini in quarter chunks
1 stalk of broccoli, but and steamed (or microwaved in a little water for 3 minutes)
1/2 onion, diced
2 bell peppers, deseeded, de-ribbed and cut into strips
1 package of sliced mushrooms
2 stalks green onion for garnish, diced
A sprinkle of sesame seeds for garnish
1 cup low salt or unsalted peanuts. (Replace with almonds or cashews if you like!)
Bulgogi Marinade
1/2 cup Soy Sauce (I prefer low sodium. You can also use Amino Acids or Tamari)
2 tbs Rice Wine Vinegar
2 tbs Sesame Oil
1 tbs Ginger (fresh or powder)
1 tbs Garlic powder (or three fresh cloves, minced)
1/4 tsp Black Pepper
2 tbs cornstarch (or to keep keto, use 2 tbs xanthan gum)
If you want to add a little sweetness that walks the keto tightrope, you can add literally anywhere from 1 tbs to 1/2 cup of powdered monk fruit.)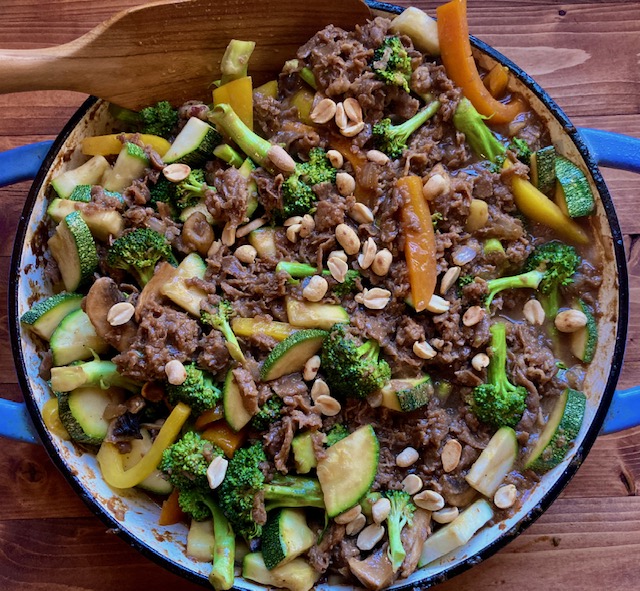 DIRECTIONS
Combine all EXCEPT the cornstarch/xanthan gum in a mixing bowl.
When all are combined, whisk in the cornstarch little by little, mixing vigorously until all lumps are gone.
Place pork into freezer bag and pour the marinade over it.
Refrigerate marinated pork anywhere from 1 hour, to overnight.
When ready to cook, heat up a heavy-bottom skillet on medium-high heat.
Spray with oil and stir in pork until almost cooked through. (I use my meat thermometer as a guide here.)
Add in the diced onion first so it softens with the meat (about 5 minutes).
*This is the point where I like to toast the peanuts in a heated, dry pan over medium heat lifting and shaking several times so they don't burn. (Once the nuts are toasted, take them out of the pan immediately or they'll continue to cook / burn.)
Next, mix in the broccoli if it needs softening.
Follow that by folding in the rest of your veggies and nuts until they are coated with marinade from the meat (and meat temp is at least 145 degrees).
Next, garnish with sesame seeds and green onion and serve with lettuce cups, over cauliflower rice (rice), shirataki / konjac noodles (ramen) or by itself!