I was craving something hearty and homey but that also made great leftovers and was of course grain-free. I feel like I've made everything a hundred times lately and I needed something different. Then, as the rain came pouring down in the LA valley, it hit me…MEATLOAF!
It was DELICIOUS. The flavor is perfect and the meat is moist and well done in all the right places.
*Here's a tip for ya that I think makes a big difference: If you like a nice well done top like I do, trade in your traditional loaf pan for a square oven-safe pan or dish so you get more of that wonderful well-baked top!
Let's do it!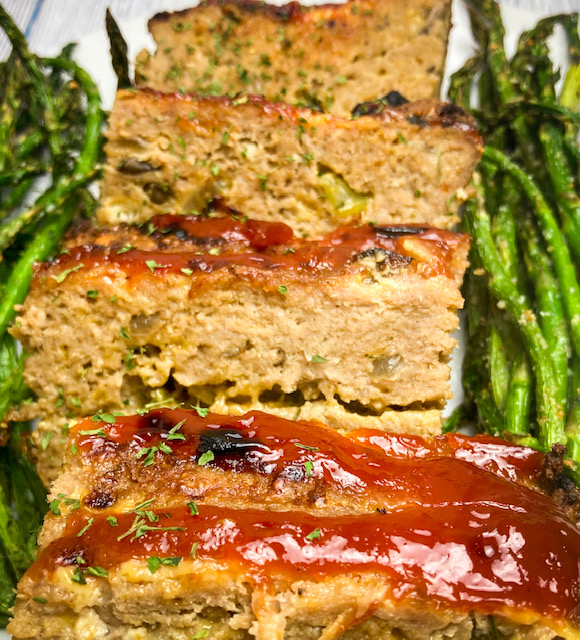 Ingredients
1/2 yellow onion, diced
3oz crimini, bella or white mushrooms, diced
2 stalks of celery, diced
3 cloves of garlic, minced
2 lbs ground turkey (sub in ground beef or even ground chicken if you like)
1 cup shredded cheddar
1/4 cup parmesan
1/2 cup almond flour
2 eggs
1tbs soy sauce or 1tbs coconut aminos
2tsp Worcestershire sauce
1tbs dried oregano
1/8tbs paprika
1tsp dry mustard
1/4tsp salt
1/8tsp black pepper
1/4 cup fresh parsley for mixture AND garnish
Low sugar ketchup for topping
Directions
Preheat oven to 415 degrees.
Sauté onions on medium heat until soft and translucent (about 5 minutes).
Add in diced mushrooms and stir for 2-3 minutes.
Add celery and garlic. Continue to stir until celery is soft and garlic is fragrant.
Stir in all seasonings (oregano, paprika, dry mustard, salt, pepper).
Transfer veggie mixture to mixing bowl and add all other ingredients except ketchup.
If using an electric mixer, use setting 2 and let it mix for about 2 minutes. (If you don't have an electric mixer, use your hands!)
Pour mixture in a loaf pan or square glass dish (I prefer square dish) and spread ketchup over the top and place in oven for 45-60 minutes. Internal temp should be at least 165 when done. (If you like the top a little well done like I do, consider placing in the broiler on low for 30-60 seconds. But make sure you check it often so it doesn't burn!)
Carefully pour off some of the excess water on the top and let the meatloaf rest for 5-10 minutes.
Serve and enjoy! Makes GREAT leftovers!
Are you worried that kids won't like it? Don't be! Here's proof!!