Keto air fryer onion rings are the new obsession in this house. In fact, the little 5-year-old chef, requests them often and ALWAYS helps make them! (This is a GREAT recipe to make with kids. I put him in charge of dipping the rings in the pork panko after I've dredged them through the flour and onions.)
Two things I would ABSOLUTELY recommend in order to get the BEST rings possible are:
Use sweet onions!! This will ensure they have that wonderful sweet flavor of restaurant onion rings. If you can't get your hands on sweet, yellow is your next best bet.
Let them cool on a cookie sheet instead of a plate! This will keep them from getting soggy on the bottom and losing all their crispness! If you don't have a cookie sheet, at least let them cool on a paper towel to avoid having them sit in moisture as they cool.
*Here's a third bonus tip – do NOT use almond milk or other dairy alternatives in this! It'll thin out the egg too much and mess with your coating. If you don't want to include milk, leave it out ENTIRELY and just use the beaten eggs! You may need to add one more egg so you have enough and it'll be a little thicker, but it'll work great! Meanwhile, when it comes to getting the coating to stick, some people swear by soaking the onions in buttermilk first, while others put the tray of pre-fried, coated onion rings in the freezer or fridge for 15 min before air frying!
Have fun with it and rejoice in eating one your favorite foods again – grain and guilt-free!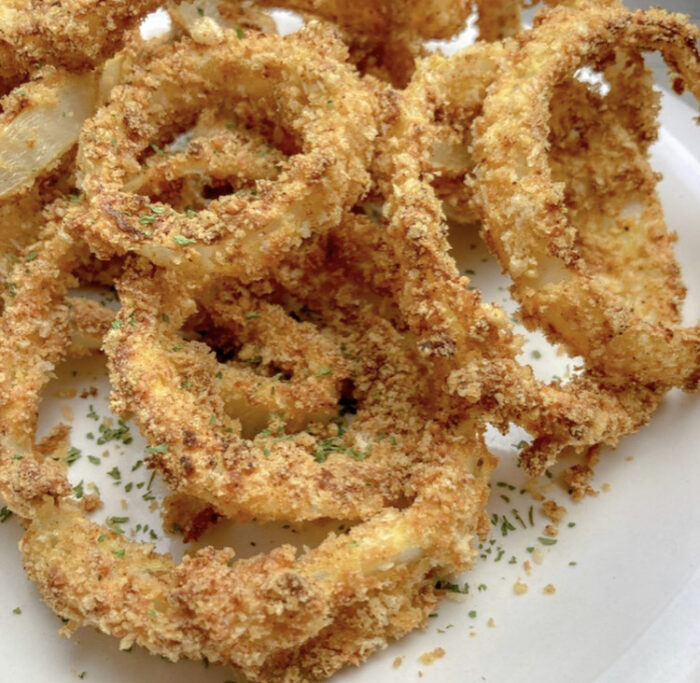 Ingredients
2 large sweet onions (Vidalia, Walla Walla, etc. VERY important you use sweet onions!)
1 ½ cups pork panko
½ cup grated Parmesan (optional)
½ cup all coconut flour (or almond flour) *You won't really be using a half cup of flour-just a little for dusting! But it's easier to do when there's enough in the bowl to swirl around.)
3 eggs, beaten
1 splash of milk (a little less than 1/4 cup)
S/p, onion powder, garlic powder, paprika to taste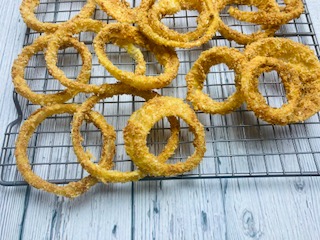 Directions
Pre-heat air fryer at 370 for 3-5 minutes.
Slice onion into ¼ inch slices.
Separate the rings and place in a pile.
Whisk eggs and milk together.
Take each ring and dredge through flour, egg/milk mix and panko/parm seasoning mix, in that order.
Place rings in AF so they're spread out (but you can place little ones inside big ones).
Cook at 370F for 6 minutes.
Continue cooking in batches and serve with ranch and / or ketchup!