On a never ending quest to tighten up my snack game, I've been craving something crunchy and smooth and rich and salty and holy heck I've stumbled upon my new obsession!
Meanwhile, I've had the oh-so-trendy Everything Bagel Seasoning in my cabinet for a while now and have never taken it for a spin. Then today, the perfect light meal dawned on me and it turns out I saved it for the PERFECT occasion.
It so easy and so delicious, it makes a great lunch, snack, party appetizer and even brunch treat!
Let's do this!!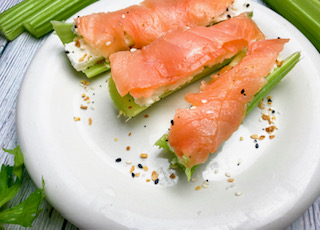 Ingredients
3 large celery stalks
4oz cream cheese
3oz smoked salmon
Everything Bagel seasoning to taste
Directions
Clean and trim celery, the cut in half.
Fill celery with cream cheese.
Sprinkle seasoning over the top.
Cut salmon into thin rows and lay across celery.
Dig in!
NOTE:
If you're not into smoked fish, leave it out and you'll STILL have a delicious snack!
If you're having a hard time finding the Everything Bagel Seasoning, you can buy the ingredients individually. They are: sesame seeds, sea salt flakes, dried minced garlic, dried minced onion, black sesame seeds, poppy seeds.