With football season upon us and the heatwaves finally in the rearview mirror, it's time to focus on gooey, delicious finger foods that get everyone cheering in time for kickoff!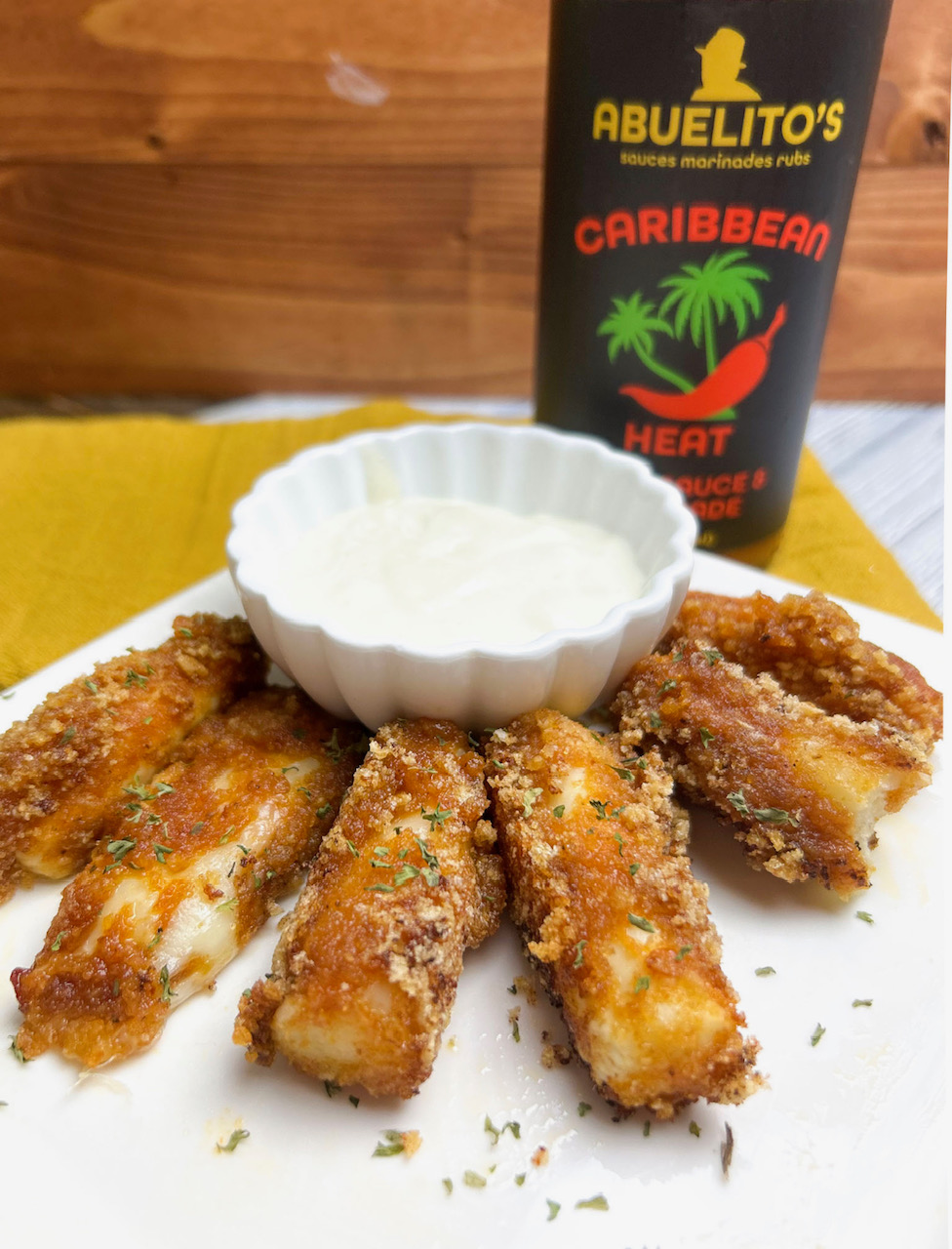 Mozzarella sticks are the highlight of every get-together. Everyone pushes the bowl of pretzels aside when these puppies come out of the kitchen. But as much as I love the original, the same old stick-and-sauce can get a little boring. I like a little heat and a kiss of sweet in my snacks so I teamed up with Abuelito's Sauces and Seasonings (#ad) to make my sticks with Caribbean Heat and they will KNOCK YOUR SOCKS OFF. Dunk them in some nice cool, creamy blue cheese and you've got yourself a PAR-TAY in your mouth! *This sauce is very much approved by The Adam Carolla Show, by the way. I made chicken kabobs with the Caribbean Heat and the guys LOVED it! Watch the clip here.
Have I piqued your interest yet? Then let's do it!
Ingredients
10 Mozzarella sticks (The low moisture sticks work better and prevent ooze but you can use whichever you have on hand.)
1 cup coconut or blanched almond flour
2 cups pork panko or ground up pork rinds.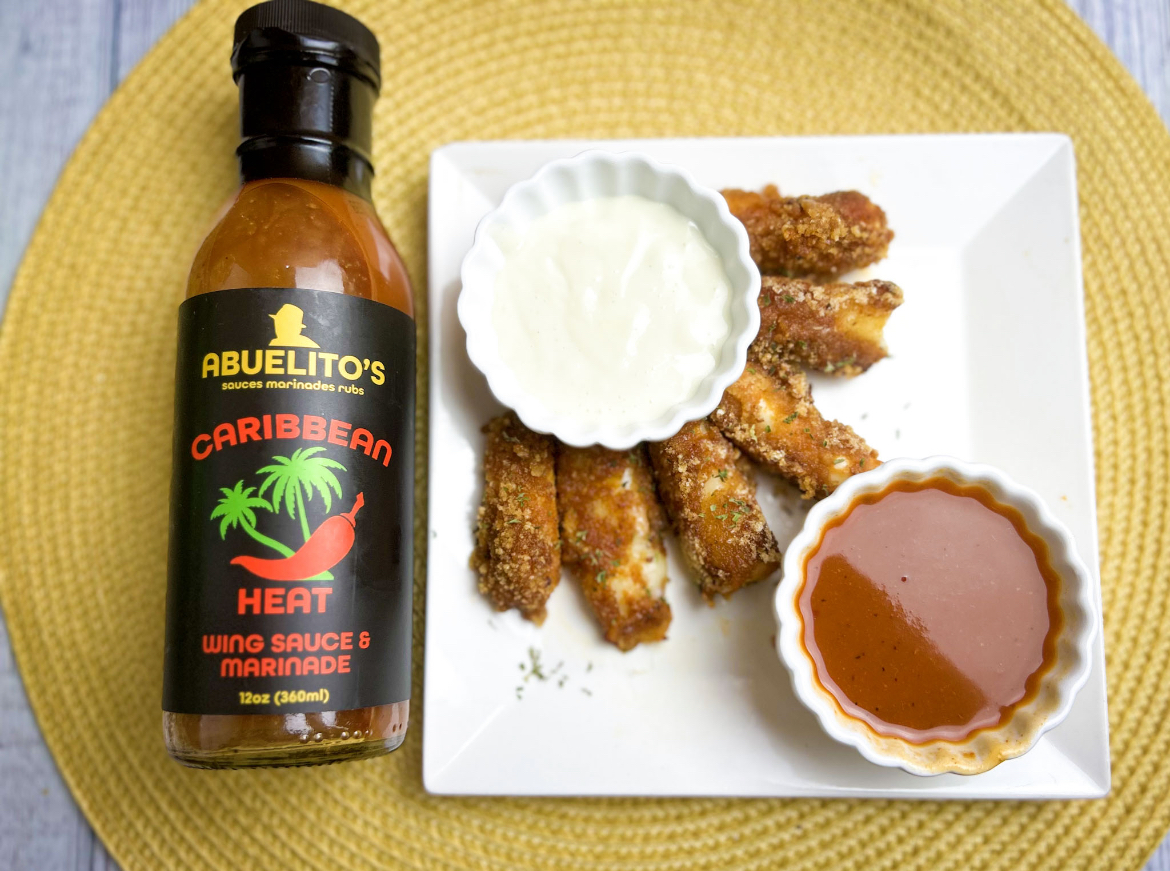 Directions
Cut each cheese stick in half width-wise and pat them dry with a paper towel.
Set up the flour, the sauce and the panko each in a shallow bowl or dish and line up next to each other.
One by one, dredge each cheese stick through the flour, then the sauce, then panko. Then – THIS IS VERY IMPORTANT – repeat dredging the stick through the sauce and the panko one more time! This will help to make it crispy and help keep it from oozing.
Once all are prepped, line up on a cookie sheet or anything flat and put in the freezer for 1-2 hours. DO NOT SKIP THIS STEP! I skipped it the first time and I was left with a big old melted mess.
After you've taken the sticks out of the freezer, spray air fryer trays with cooking spray and space them out in the fryer.
Set the air fryer at 390 degrees for 6 minutes, flipping halfway through. (All air fryers are a little different so time may very. For that reason, you should check your sticks every 2 minutes or so and leave in longer if necessary.)
Let cool for a few minutes.
Then garnish with parsley and serve with a nice blue cheese dressing!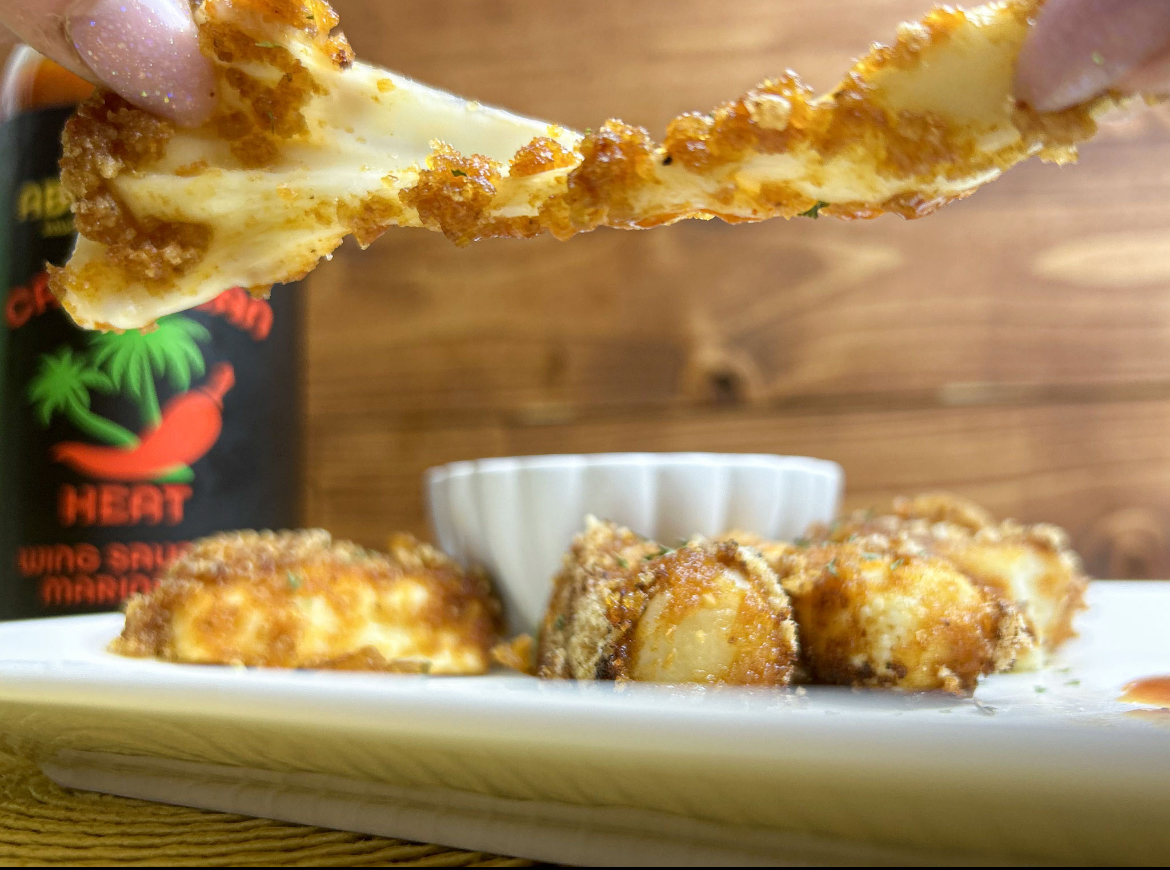 Tips
To bake in the oven, put the sticks on a parchment paper-lined baking sheet sprayed with cooking spray. Then place in a pre-heated 400 degree oven for 5-8 minutes. Check to make sure the cheese isn't over-oozing.
To fry, place a few sticks into an oiled heavy-bottom pan that's heated to 365 degrees. Fry until coating is golden brown and place on a paper towel to drain.
I'm begging you to make sure you put the sticks in the freezer before cooking them. It'll make ALL the difference!
When it comes to the delicious Abuelito's sauce, you get free shipping on all orders! Give it a try and let me know what you think!