It's easy to assume that words like "hearty" and "light" have nothing to do with each other. I mean, how can a meal be both umami-licious AND refreshing? Well it can be done! All it takes is some meat, an easy marinade and a couple veggies.
Ready to do it? Let's go!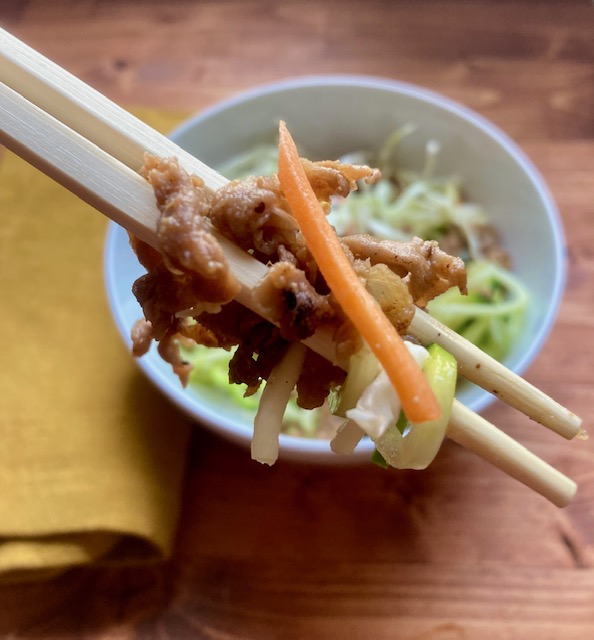 Ingredients
12oz Pork, shaved thin
1 Zucchini, spiraled into zoodles
1/2 large onion, diced or cut into thin strips
I1/2 Cup chopped cabbage, bagged works fine
Marinade Ingredients
2 1/2 tbs low-sodium soy sauce (You can also use tamari or coconut aminos)
1 1/2 tbs sesame oil
2 tbs rice wine vinegar
2-3 cloves garlic, minced
1 tsp grated ginger
Optional: Cilantro, green onion, sesame seeds to garnish
Directions
Combine all marinade ingredients in a bowl, whisking together vigorously.
Place pork in a resealable bag / container and pour marinade inside.
Massage bag so all the meat is coated and place in refrigerator for at least 20 minutes.
Sauté onions on medium heat until soft and translucent.
Once onions are cooked through, add marinated pork and stir continuously until the meat is cooked through (approximately 3-6 minutes)
Set pork on top of the zoodles and add the cabbage on top.
Then garnish and serve immediately.