What is more universally loved than kabobs? They're easy to make on the grill or in the oven and talk about versatile! Any protein, veggie (along with many fruits) and seasoning you can think of mixes beautifully on a kabob.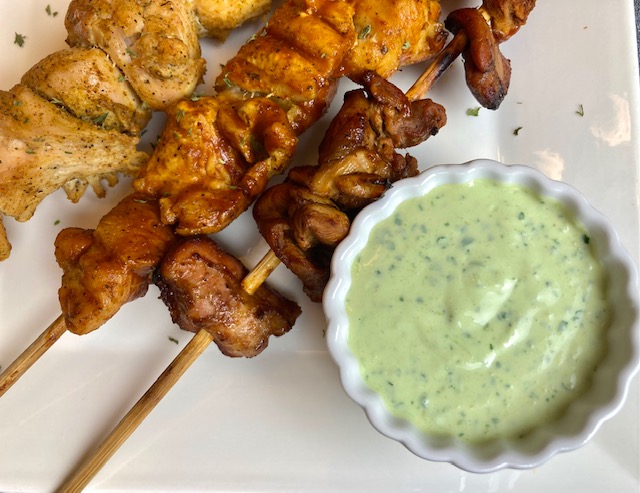 So why Cuban kabobs this time? I was approached by a very cool little company called Abuelito's and I gave a bunch of their products a try. Some GREAT stuff! I used their Caribbean Heat Marinade and the Island Breeze rub for the kabobs.
Meanwhile, I love pairing meat with a little heat with a nice cool, creamy sauce. Enter, the cilantro avocado cream sauce. It is soooo smooth and tangy and garlicky and fabulous. I'm going to put it on salads, fish and yes, I shall be dipping chips in it this weekend! I used a recipe from the Sassy Spoon as a guide, but changed it up a bit for a slightly creamier, more mellow vibe.
First, let's talk about the kabobs and then we'll move onto the cream!
KABOBS
INGREDIENTS
Two Chicken Breasts
Four Chicken Thighs (*I like to do some skewers white meat and some dark meat)
DIRECTIONS
Before starting the process, take your bamboo skewers and soak them in a bowl of water for at least 20 minutes so they don't burn.
Preheat oven to 450.
Cut the chicken into large chunks and place into a large freezer bag.
Pour in a few glugs of Carbbean Heat Marinade.
Close the bag and massage the rub into the chicken.
(*You can sprinkle in some of the Island Breeze seasoning as well if you want a little extra zing or do a separate bag chicken with 1-2 teaspoons of seasoning, but the marinade is great as is.)
Put in the fridge for at least 20 minutes. (You can technically leave it in there all night for a deeper flavor).
Thread chicken chunks through the skewers and line them up on a roasting pan with a level rack. (*This works best if you wear gloves as it can be MESSY!)
Place rack / pan in the oven for 15-30 minutes (depending on your oven). Just make sure the internal temperature of the chicken is at least 165 degrees.
Once chicken is cooked through, place kabobs in broiler for 1-2 minutes and serve hot with cilantro avocado cream!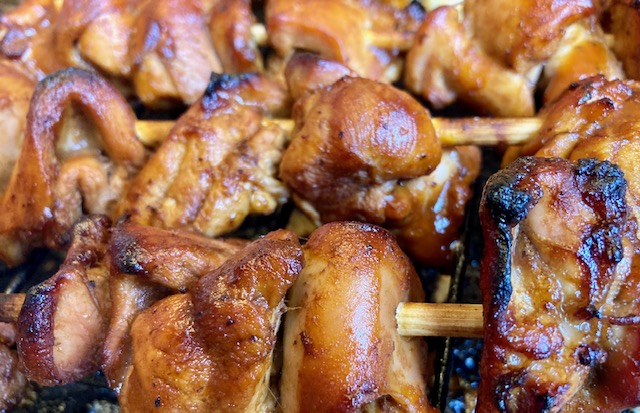 CILANTRO AVOCADO CREAM
INGREDIENTS
12 oz Full at Greek yogurt
Juice of one lime
1/2 Cup fresh chopped cilantro (no stems)
1 Avocado
3-4 Cloves of fresh garlic
Salt to taste
DIRECTIONS
Add all ingredients to your food processor and mix until all ingredients are chopped and smooth.
*Start out with as little salt as possible and add in as you mix. The meat will be nicely salted so the sauce should be a cool and creamy to balance.
Serve in a small bowl next to kabobs for dipping!
QUICK TIPS:
Veggies are GREAT on kabobs. But as I mentioned on the show, do yourself a favor and cook the meat and veggies on SEPARATE skewers! Veggies cook at a MUCH faster rate than meat and you don't want to serve undercooked meat and charred veggies!
Chicken is an easy go-to protein but we all know that beef, pork, and shrimp skewers are delectable too!
The Cuban sauce and spices I used for this dish really made this meal sing. But feel free to play around with flavors! Za'atar is perfect for a Middle Eastern flair, #NSNG BBQ sauce and rubs can be easy and great, low-sugar Teriyaki sauce is mouth-watering and cumin and Mexican spices are always fantastic and don't forget the simplicity of a salt, pepper and garlic mixture!