It's chili season!! And if you ask me, it's the best thing about the weather turning cold and the skies going from blue to grey. Ya' got colorful leaves, ya' got football games and ya' got warm, zesty, comforting chili.
There's a very good chance you have your own favorite chili recipe and sometimes they include special ingredients like dark chocolate and cinnamon. But I want to introduce to a different seasoning that adds an incredible depth of smokiness and a touch of sweetness to the meal and I promise you'll love it.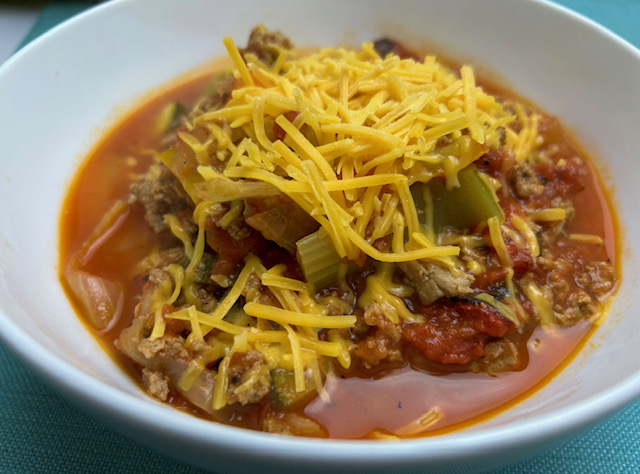 It's a Abuelito's Cafe Blend coffee rub (#ad) and it CHANGES THE GAME. It's another wonderful offering from this company that I've fallen in love with. Wendel, who created the seasonings and marinades, recommends it on steak but convinced me that it belongs in chili as well and boy was he right!
Are you ready to do this? Let's go!
INGREDIENTS
2 lbs ground beef or ground turkey
1 medium white or yellow onion, diced
4 stalks of celery, cut bite-sized
1 cup of carrots, cut bite-sized
2 zucchini, chopped and quartered
2 bell pepper, diced (1 yellow and 1 orange recommended)
1 tsp cumin
1 tsp chili powder
2 tsp garlic powder
1 tsp kosher salt
1/2 tsp black pepper
1 tsp Abuelito's Cafe Blend
1 15oz can of fire-roasted diced tomatoes
1 28oz can of crushed tomatoes
DIRECTIONS
In heavy-bottom pot, sauté onion on medium heat until they soften (about 7 minutes)
Add celery, carrots and bell pepper to the onion and soften just slightly, stirring constantly (about 3 minutes).
Add zucchini to the mix and soften slightly (about 1 minute).
In separate pan, brown the meat on medium-high heat, adding in all the seasonings.
Once meat is cooked, combine in the veggie pot and add in diced and crushed tomatoes.
Stir everything together well and bring to a boil.
Cover the pot and let simmer on medium-low for 30-45 minutes.
Serve with your favorite garnishes like cheese, sour cream, and cilantro!