The weather is finally turning and I couldn't be happier to feature a deliciously cozy dish that is keto-friendly and oh so filling…
A well-cooked pork tenderloin can be a showstopper on its own, but if you want to take the flavor to the next level, use this recipe. I promise it'll be a HIT. It's only a few ingredients and would even be a wonderful addition to your Thanksgiving or Christmas table!
Let's do it!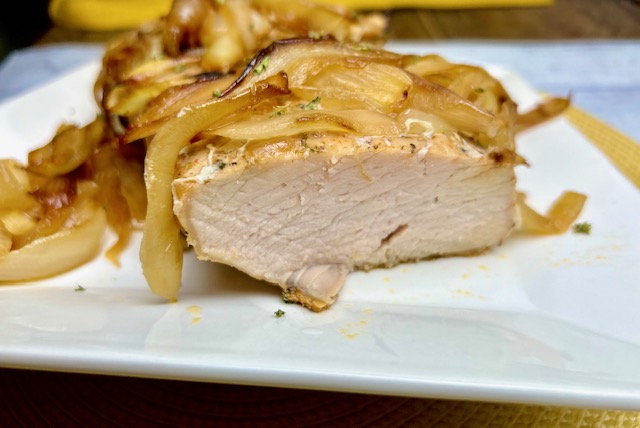 INGREDIENTS
1 pork tenderloin
salt and pepper to taste
1 tsp dried thyme
1 tsp garlic powder
1 large yellow onion
1 tbs butter
DIRECTIONS
Preheat oven to 400 degrees.
Slice entire onion into thin strips.
Melt butter in pan and sauté onions until soft and golden brown (about 10-15 minutes).
Mix all the seasonings together and rub on the top and sides of tenderloin.
Place pork in an oiled casserole dish and cover the meat with the sautéd onions.
Cook until internal temperature of the meat reaches 140 degrees (between 20-30 minutes).
Take pork out of the oven and tent with aluminum foil for 10 minutes for the juices to distribute. (The meat's temperature will continue to rise.)
Check to make sure the pork's internal temperature is at least 145 degrees.
Slice and serve with your favorite side dish!
Leftovers can be stored for three days in an airtight container.