Freakin' fried pickles! Or "frickles," as they're often called. They are the BEST. Crunchy, salty, briney…even better when they're paired with a nice cool, creamy ranch dressing! And this is another recipe that is AFA (air fryer-approved)!
Plus, these are breadcrumb / grain-free. I use (drumroll please…) PORK PANKO! You an use crushed up pork rinds but honestly, I think they have an odd smell that I've just never gotten used to. So I use Pork Panko. Not an advertiser, just a product I use a LOT!
Are you ready? Let's get our air fryer frickle on!!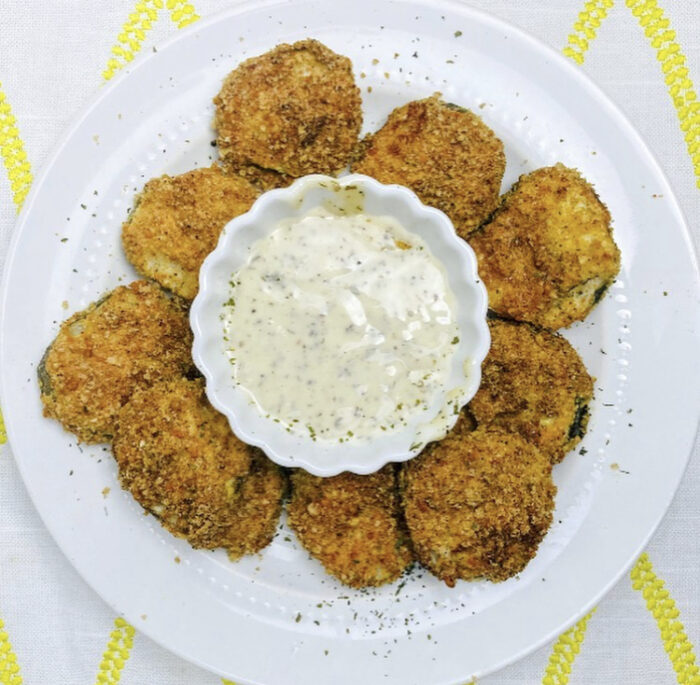 Ingredients
A dozen pickle chips
1 cup almond flour
1 egg, beaten
1 cup pork panko
Cajun seasoning (I used Tony Chacere's creole seasoning) to taste
Directions
Press paper towels onto the chips so there's no excess moisture.
Drag each pickle through the flour, then egg, then panko.
When complete, transfer chips to air fryer and set at 390 degrees for about 10 min, depending on your fryer.
If you want to flip them and fry a little more you can, but I don't find it necessary.
Let cool for 5 minutes and serve with ranch dressing!