What is more refreshing and filling during the summer than fresh, homemade chicken salad! And I have a couple tips that will take it from good to great – especially if you're like me and not super jazzed about the taste of raw onion!
I'm going to put an * next to the TWO tips to look for in the recipe so you don't miss them! Let's do it!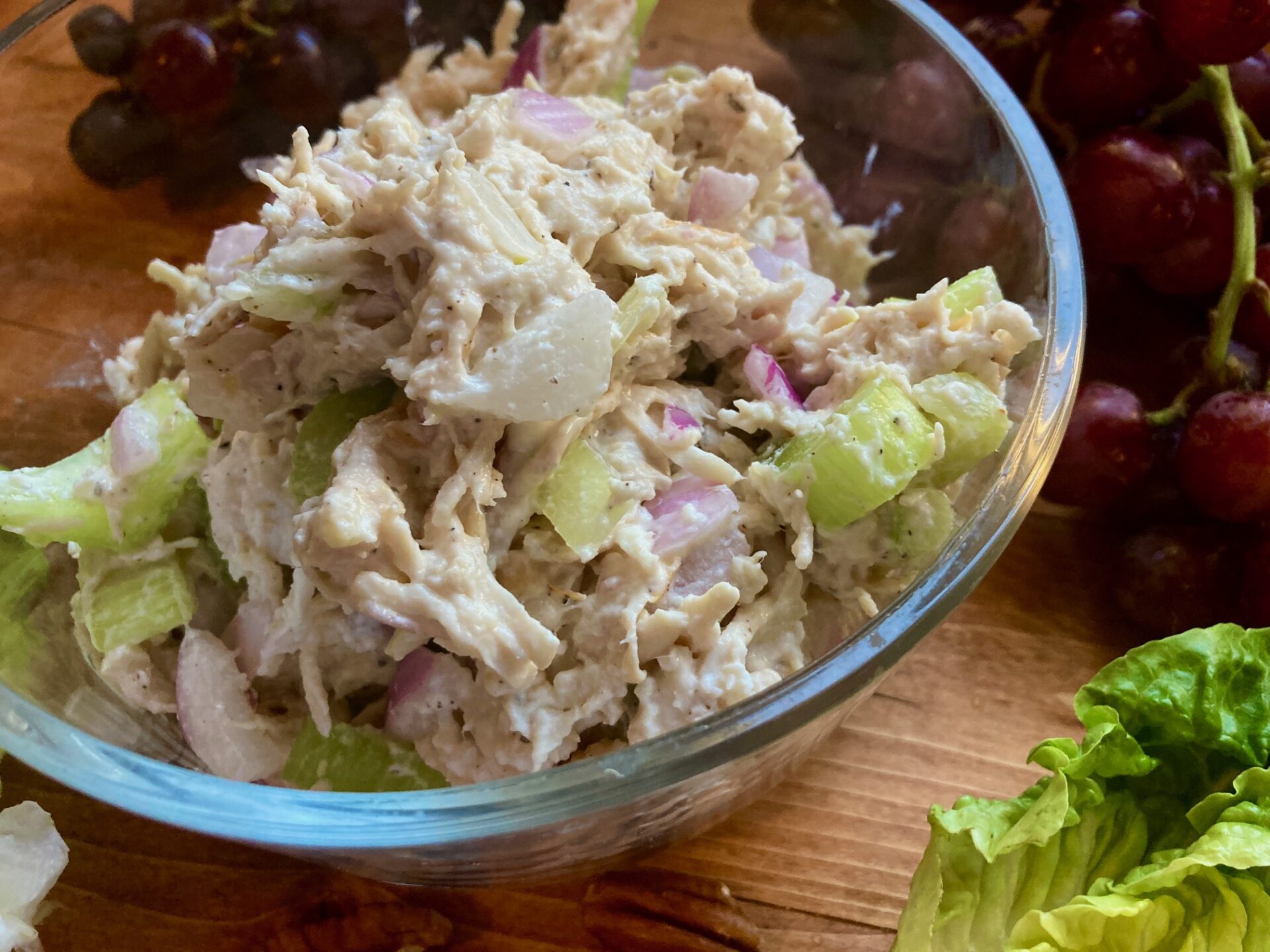 Ingredients
1 lb raw chicken breast, s/p to taste
5 medium size stalks of celery
1 cucumber, peeled and diced
1 medium purple onion, diced
1/4 cup mayonnaise
1/4 cup Greek yogurt
1 tbs white wine vinegar
1/2 tsp garlic powder
1/4 black pepper
Pecans – toasted or raw, optional
Sliced seedless red grapes, optional (omit this is you're keto / NSNG!)
Directions
*If you don't like the potent taste of raw onion, start here! While your skillet / heavy-bottomed pan is heating up for your chicken, put your diced onion in a medium-sized bowl. Throw a couple of ice cubes in and fill the bowl with cool water. The longer the onion sits in the cold water, the less potent the flavor becomes! This was one of Shereen's recent "chefie tips" and it's been a game changer for me!Pat chicken breast dry and season with salt and pepper on both sides.
Place in hot, oiled pan on medium-high heat
*Cook the chicken, undisturbed on both sides for 4-5 minutes each. Don't disturb the chicken! Let it get a nice brown sear on the outside! (Many people tend to use boiled/poached/Instant Pot chicken for this and that's totally fine. But I've found you get a MUCH nicer flavor if you pan-fry with that beautiful golden brown on the outside!)
Put chicken on a separate plate so it can cool and rest, reabsorbing the juices. (I also like to loosely tent it with aluminum foil.)
Chop up your celery and cucumber (and slice your grapes if you're doing that) and place in large mixing bowl.
Cut your chicken into small cubes and that and the drained onion to the mixing bowl as well.
Add in all you dressing ingredients (including your optional pecans and grapes) and either mix on low in your electric mixer (which will give you shredded chicken) or mix by hand (which will give you cubed chicken).
Serve immediately or cover and place in the fridge for 20 minutes to give it a little chill.
Leftovers can be refrigerated for 3-4 more days in an airtight container!

Tips
I like to toast my pecans in a hot, dry pan for a minute or two to give them a nice crunch and bring out that extra nutty flavor.
To keep these deliciously NSNG, I like to serve them in "lettuce boats", either using romaine or butter lettuce!
Don't be afraid to add a little extra pinch or splash of whatever you need! Chicken salad is completely customizable. Maybe you like it a little creamier or with more tang. Play with the seasoning quantities as you go so it's just right for you!