The boys in my house are OBSESSED with pizza. (Ok…I am too.) But when you're trying to stay keto / NSNG, traditional pizza isn't exactly on the menu. That's why I came up with this dish that is an absolute HIT in my house! And soooo quick and easy to make. *This is probably the quickest, easiest recipe on my entire food blog and it's a HIT in our house! Pizza Chicken is pretty much exactly what you think it is – Chicken breast slathered in tomato sauce, shredded mozzarella and, of course, pepperoni! It literally could not be easier. I promise!
Ready for the world's easiest recipe? Let's do it!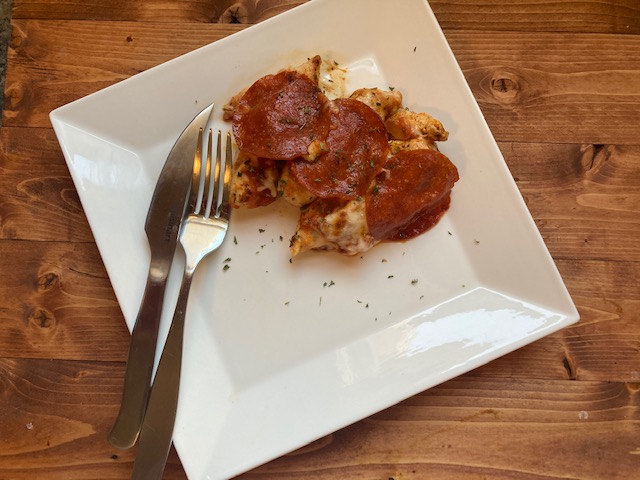 Ingredients

– 2lbs chicken breast (either butterflied or pounded thin) or chicken tenders
– salt / pepper to taste
– 2 tbs Italian seasoning
– 1 jar low sugar marinara
– 2 cups shredded mozzarella
– 1 package pepperoni
Directions

– Pat chicken dry and season with s/p and Italian spices.
– Cook chicken in oiled skillet or heavy-bottom, oven-safe pan until cooked through (around 4 minutes per side). *Resist the urge to move the chicken so it can get a nice golden brown sear on each side!
– Once chicken is cooked through, over with marinara and top with mozzarella and pepperoni.
– Remove from stove top and place pan in the broiler on high until the cheese is melted and the pepperoni is slightly crispy. (1-2 minutes).
– Remove from broiler and serve!