We're now officially in Daylight Saving Time and there are STILL parts of the country that are covered in snow. Because I stand with those poor souls (AND because I was gifted a beautiful basket of fresh vegetables from a nearby garden), I decided to make a giant pot of delectable and ULTRA healthy stew.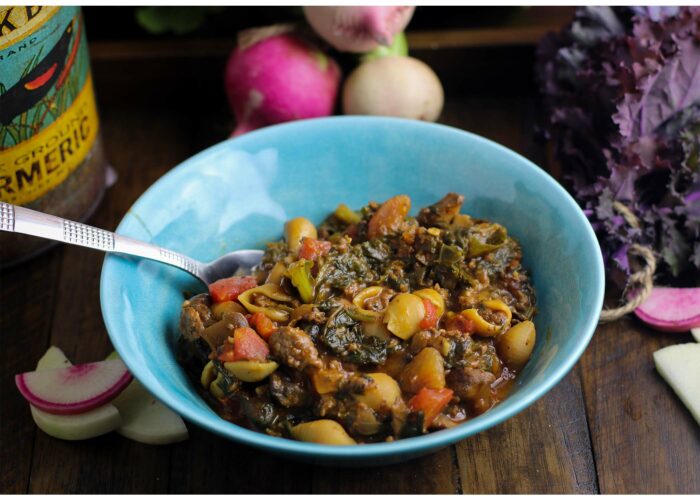 I used veggies that I don't cook with a lot like kale and radishes and they were a PERFECT compliment to this hearty one-pot meal. (*Even if you're not a huge radish person like me, give this a try because cooking these guys mellows out a LOT of the bitterness and spiciness!)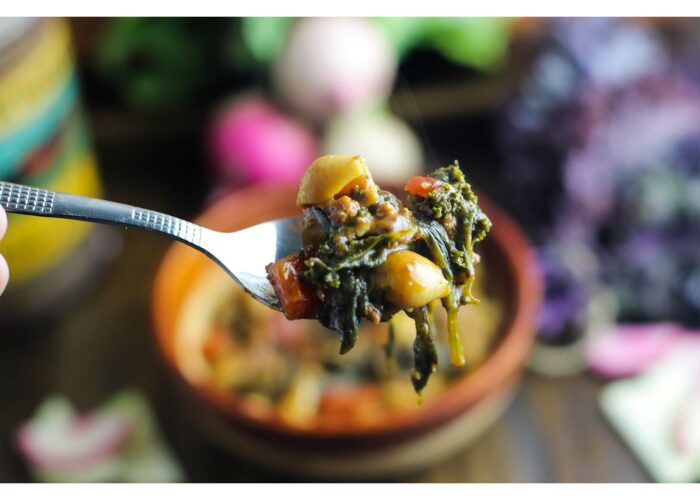 Ingredients
1 Dutch oven or heavy-bottomed pot
1 pound ground turkey
2 tablespoons Italian seasoning (1/2 tablespoon for ground turkey and 1 1/2 tablespoon for veggies)
1/2 teaspoon umami seasoning (optional)
1 teaspoon garlic salt
1/4 teaspoon ground black pepper
6oz diced onion
3 teaspoons minced garlic
4 cups chopped mushrooms, large chunks
3 bunches fresh spinach
2 bunches roughly chopped kale
1 bunch radishes, each quartered
1 box chickpea pasta (optional – I used Banza pasta)
2 cups chicken broth (3 cups if you add chickpea pasta as the will soak up the broth)
1 6 oz can of tomato paste
1 10 oz can diced tomatoes
1/2 cup dry red wine (Cabernet, Pinot Noir, or Merlot)
1 tbs Worcestershire sauce
Directions
Brown ground turkey on medium high heat, along with garlic salt, black pepper, umami and 1/2 tbs Italian seasoning.
Set aside.
Sauté diced onion until soft and golden (about 10 minutes).
Toss in kale a third at a time, stirring and wilting it as you go.
Add radishes and stir until slightly soft.
Toss in mushroom chunks and sauté until they soften and shrink a bit in the pan.
Lastly, stir in fresh spinach a handful at a time, stirring until wilted.
Add in minced garlic and stir until fragrant.
Add cooked ground turkey back into the pot.
Stir in tomato paste until mixture is coated.
Pour chicken stock and diced tomatoes over the top and mix well.
Add in red wine and stir.
Add in box of chickpea pasta
Cover pot and bring to a boil (needs about 10 minutes for pasta to cook).
Uncover and simmer for 10 minutes.
Check to make sure pasta is done and let sit a few minutes to so it doesn't burn the roof of your mouth.
Serve alone or with shredded Parmesan cheese sprinkled on top!
Notes
Mark my words: Radishes are the next cauliflower. They take on a similar consistency to potatoes and once cooked, the bitterness virtually goes away.
Sautéing onions takes much longer than most recipes would lead you to believe. Even though they'll continue to cook in the pot, sauté them for at least 10 minutes if you want to bring out the sweetness.
Adding the pasta is definitely not necessary and I think I may actually prefer the soup without it. But I've been very curious about this chickpea pasta. And even though it's a bit carb-y, it certainly makes it a more substantial meal!
Many of these veggies can be subbed in and out! Celery, carrots, zucchini would all work. But I highly recommend sticking with this combo as it's very hearty and delicious. (Also you can use ground beef instead of ground turkey if you wish!)