A creamy risotto is almost always the most decadent thing to order when you're out to dinner. The warm, savory goodness is delicious and so filling (unless everyone else at the table makes you give them a bite!)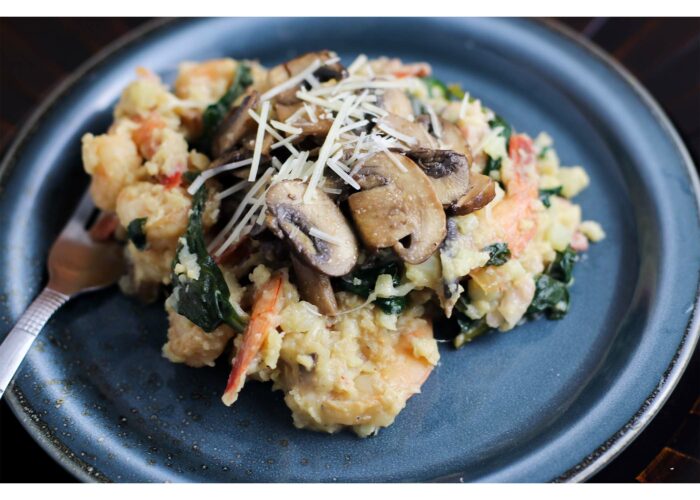 Not only do I highly recommend making this at home, but I REALLY highly recommend subbing out the traditional risotto for riced cauliflower. The dish becomes slightly lighter but still plenty satisfying for a family dinner or a fancy dinner party because kids and adults alike are going to love this. (My boyfriend said this is the best thing I've ever made sooooo I'm PRETTY excited about it!)
Shrimp Cauliflower Risotto
Servings: 4
Ingredients
15 crimini mushrooms, sliced
4 tablespoons olive oil (2 tbs veggies, 2 tbs shrimp)
18 shrimp
1 whole lemon, juiced
1 teaspoon garlic salt (1/2 for veggies, half for shrimp)
2 cups diced onion
1 heaping teaspoon minced garlic
8 oz fresh spinach
1/8 teaspoon black pepper
1/2 teaspoon red pepper flakes
1/4 teaspoon umami seasoning for shrimp (optional)
1/2 cup dry white wine
1/2 cup chicken broth
2 oz (4 tablespoons) heavy whipping cream
1/2 cup shredded mozzarella
1/2 shredded parmesan
6 slices of pancetta, torn
1 bunch fresh parsley, chopped, (optional)
Directions
Microwave bags of riced cauliflower, one at a time.
Once cooked, rinse with cool water and wring out with cheesecloth. Set aside to add later. (See how best to wring cauliflower in the "Notes" section below).
Sauté mushrooms in a large skillet 2 tablespoons of olive oil and half teaspoon garlic salt at medium high heat. Then set aside (reserve 1/3 of mushrooms to garnish over the top when recipe is complete.)
Sauté diced onion until soft and slightly golden (about 10 minutes), add minced garlic and cook for another 3 minutes
Add in spinach, a third at a time, stirring and wilting as you go.
Sprinkle in black pepper, 1/4 teaspoon garlic salt and half the lemon juice, stirring evenly to mix.
Stir in wrung-out cauliflower.

           

Pour in dry white wine evenly over the mixture and stir carefully.
Next, drizzle chicken broth and heavy whipping cream evenly over the top and stir carefully.
Cover and simmer for 4-5 minutes while cooking shrimp in separate pan.
While mixture is simmering sauté shrimp in olive oil, 1/4 teaspoon garlic salt, other 1/2 of lemon, red pepper flakes and umami seasoning. (Here's a great article on the best way to cook shrimp).
Once cooked, remove lid and add shrimp and torn pancetta to now simmered mixture.
Sprinkle in the shredded mozzarella and carefully fold in.
Next, sprinkle in the Parmesan and carefully fold in.
At this point, everything should be fragrant and taking on ooey-gooey perfection.
Spoon onto plate and garnish with sautéed mushrooms, parsley and another sprinkle of parmesan.
Serve immediately and enjoy!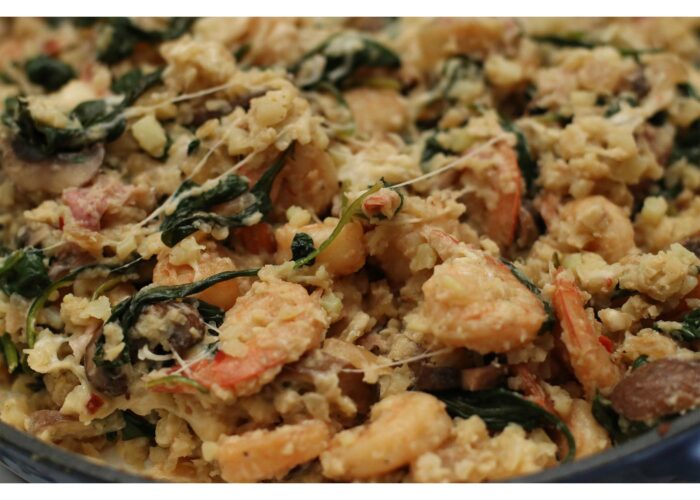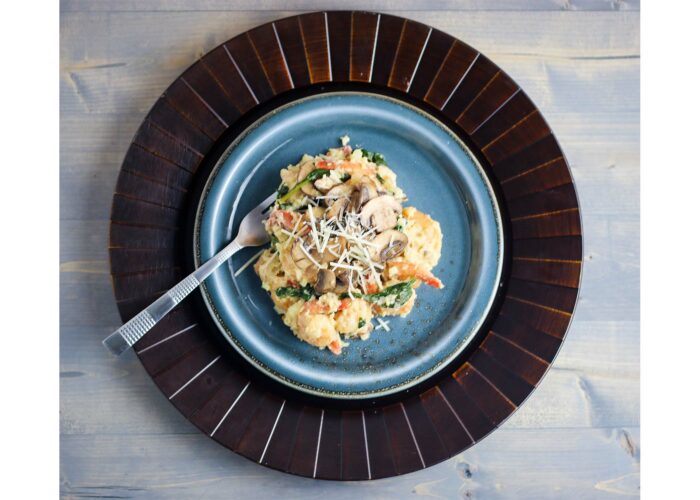 Notes
-There are many options when it comes to ricing your cauliflower. You can rice it yourself, buy pre-riced and boil it, or get steam-in-a-bag riced cauliflower. There are enough moving parts in this recipe that I like to nuke the cauliflower so I can focus on other elements.
-How to best wring out cauliflower: Spoon about 3 heaping tablespoons of cooled down cauliflower rice into a folded over cheesecloth (cut the amount you need and leave the rest on the spool.) Gather each corner of the cloth and wring it with some pressure over the sink, taking care not to tear the cloth. (If you're still getting used wringing out cauliflower you may want to put a plate or cutting board in the sink so if your cloth breaks you can scoop up the cauliflower and wring out again.) Repeat the process for all the cauliflower. Once it's wrung, each bundle should lose a considerable amount of size and be pretty mushed together. Don't worry about that! It'll break apart nicely once mixed into the other veggies.)
-Some people like more of a kick than I do. If that's you, Add more red pepper flakes. If that's NOT you, get rid of them all together!
-If you don't have pancetta, sub in Prosciutto or even some crumbled bacon. Or you can leave it out (though you'll be missing the salty, savory explosion you get when you bite into one).
-This meal screamed "Shrimp!" to me, but you can also sub out shrimp for chicken breast or thighs, scallops or even thinly sliced steak.
-Make it vegetarian by omitting the shrimp/pancetta and changing the chicken broth to vegetable broth.
-You can make it vegan by omitting the shrimp/pancetta, changing the chicken broth to vegetable broth, using either no whipping cream cream or a bit of coconut cream, and subbing in vegan cheese.
-If you don't have crimini mushrooms, you can use porcini, shiitake, baby bella, or whatever you have!